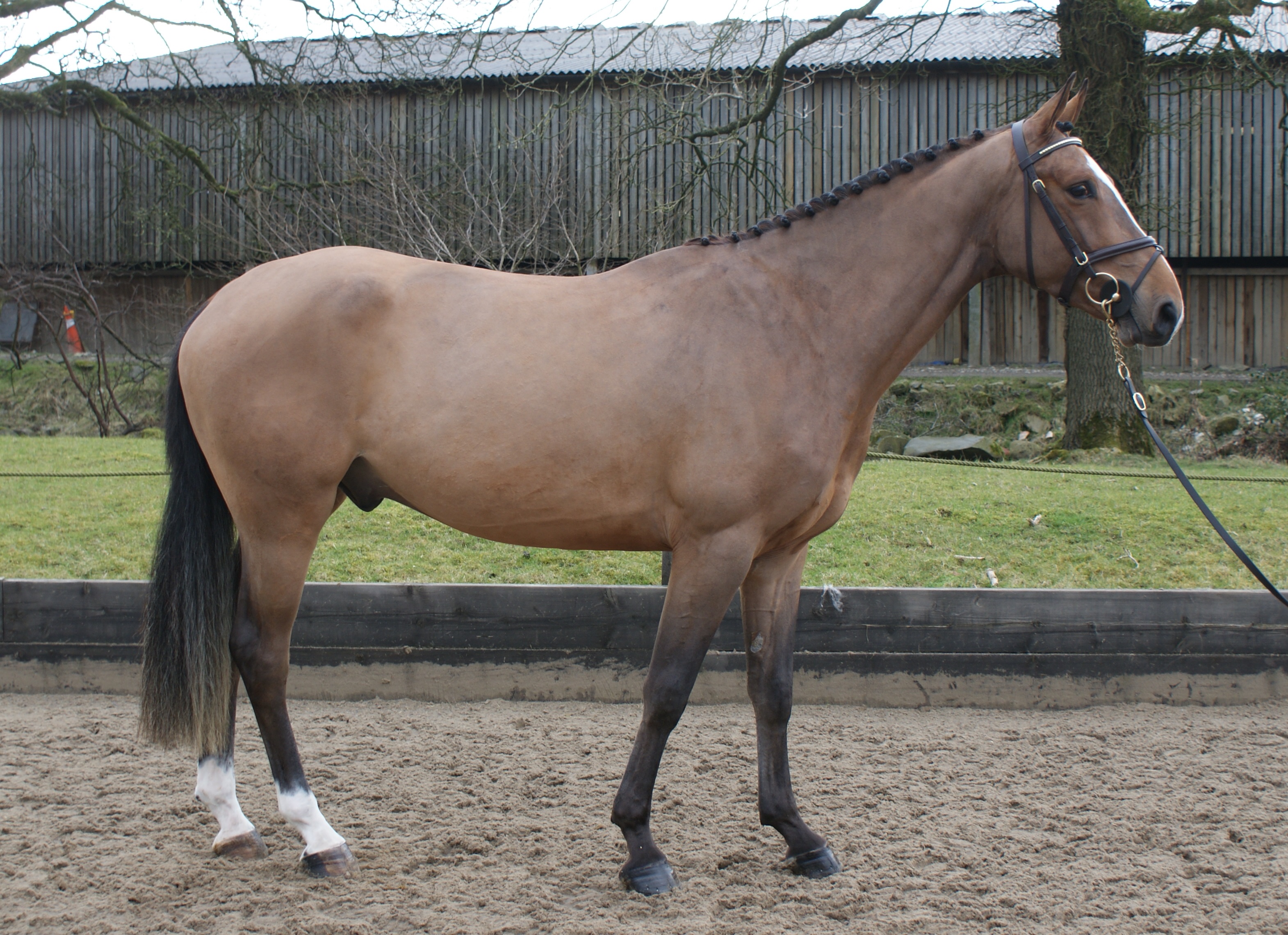 Millfield Tobias

A super bay gelding, who is really stamped by his sire. Full of character and very athletic, he is destined to be an outstanding performer being from such an excellent dam.
He broken this spring and now popping a set of fences boldly and carefully. Excellent to do in all ways


Sire:
Tornesch SWB, 1.65m, 16.1hh bay, 2000
This son of Lux Z is one of the most successful horses of this moment in the international showjumping sport. With the Swedish showjumping rider Malin Bayard this season the bay stallion was placed at the World Cup shows of Olso, Helsinki and Vigo. The combination also contributed to the winning Team at the 2010 Flasterbo Top League Nations cup.

Tornesch\'s excellent pedigree lists three of the world\'s best stallions in a row: Lux Z, Libero H and Caletto I.

In the dam line of Tornesch we find among others the international showjumping horses Lennox and Pinkfloyd de Maibelle. The first offspring from Tornesch has brought us the Swedish approved stallion Turmalin (Tornesch x Cortez), who at this moment belongs to the most talented horses in Sweden.



Dam:
Sagamihara 1995 Dark Bay mare 16.2hh 168 cm BWP P-label sport (see broodmares for reference)
Sagamihara is a proven show jumping mare who has competed internationally with French rider Vera Benchimol. She was in the top 10 horses in Belgium as a 7 year old. Her pedigree is one of the best combining the 2 greatest stallions in show jumping and is from one of the best motherliness in Europe for producing top class jumping horses. See

http://www.horsetelex.com/pedigree.php?horseid=232...

for mareline and progeny details. She has already produced nine foals, several by ET and is also the mother to 2 approved stallions one in Europe the other standing in Argentina. Her dam and sisters are all producers of International jumping horses.

Saga is by Quidam de Revel Who in 2004, topped the World Breeding Championships Jumping Stallion ratings for the second year running, establishing himself as the pre-eminent - and most expensive - living sire of jumping horses.With 10 of his progeny jumping at the WEG in Jerez 2002, he was the stallion with the most number of progeny at this level. In 2011 he is still at number 6.

Quidam was himself a jumping star; a member of the French Olympic Team, and fourth individually at the Barcelona Olympic Games with Herve Godignon.

Quidam\'s pre-eminence as a sire was confirmed at the 2002 WEG in Jerez, where he was the sire of more showjumping participants than any other stallion. In the survey of the world\'s top 75 jumping sires that appears in the French publication, Monneron 2007-2008, compiled by Bernard le Courtois, Quidam de Revel is Number 1 with 48 CSI winners and he is also represented by two sons. Nabab de Reve is 18th with 14 CSI winners, while Guidam ranks 19th with 12 winners, including Authentic, second best performer in the world in 2006.

Saga\'s dam is by the legendary Darco , a Belgium Warmblood , who was one of the most successful show jumping horses ever and is also one of the top breeding sires worldwide for jumping horses being number 1 in the WBFSH rankings for 2011.

Darco\'s list of achievements as a jumping stallion is testimony to his dream-like career and that of his rider Ludo Philippaerts , who credits the stallion with getting him into the international show-jumping circuit: As a sire, Darco, who was described by his rider as an extremely honest and intelligent horse was never not known to produce offspring that fell short of excellence and was always on top of the list for breeders from all over the world. After his retirement from show jumping, Darco became one of the World\'s best breeding stallions for show jumpers and has remained so until his death in 2006.

Saga\'s dam, Noblesse has also produced the International show jumper Shakespeare V/H Lambroek and the International stallion Terror

Select a video: