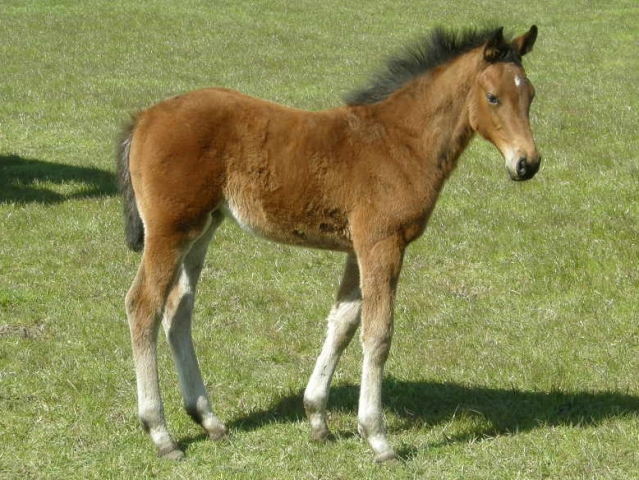 Millfield Quinella
Quinella is an extremely pretty filly with thoroughbred qualities and lovely paces. She has an outstanding proven pedigree combination for breeding and sport and is sure to be an asset to any breeder and competition yard.

SOLD

SIRE:- Quinar Z 16.2hh 167cm 1995
Quinar is the Sire of 5 world champion jumping horses. He is the sire of Quick Nick, who sold for 400,000 EU\\\\\\'s at the Holsteiner annual auction and also the approved stallions Quality, Quadrigo and Quintender. Quinthago, 5year old daughter of Quinar, WON THE FEI WORLD championships for young horses in Europe in Sept. 09 in a jump off - out of l30 in the class. 2 other Quinars? came in llth and l7th. Quinar himself finished his stallion performance test with the top index of 142.03 points in jumping and was soon successful in advanced S level international show jumping competitions under Jos Lansink. After initially breeding in Holstein, he then briefly bred at Zangersheide stud in Belgium, but soon returned to Holstein. At least nine of his sons have been licensed so far. Quinar has excellent conformation, type and motion and tremendous scope. His bonits are 9988679. Quinar has two crosses to the great Alme\\\\\\', through the sire Jalisco B on the paternal side and Aloube Z on the maternal side. The stamm of Quinar is 1020, also the stamm of Carthago. Quinar\\\\\\'s sire, Quidam de Revel, took team bronze and fourth place individually at the 1992 Olympic Games in Barcelona. As of 1993 he was ridden by the Danish rider, Thomas Velin, and the pair won the Grand Prix of Hanover and Arhus/DEN, and also set stardards in breeding. Ten Quidam de Revel offspring participated in the 2002 World Championships in Jerez, Spain, including the later team gold winning, Dollar de la Pierrre.

DAM:- Cartouche 1995 Bay 16.2hh 168cm Holstein Stamm 671
Cartouche is a lovely looking mare with an excellent temperament. She has successfully competed in Switzerland in show jumping before retiring sound as a broodmare.She has already produced a premium foal in Germany by Quo Vados and is from the stamm 671 which has produced Carlsberg, by Contender, Lucky Dream, by Lucky LionelCarthargo Z competed at the Olympic Games in 1996 and 2000 with Jos Lansik and was also a winner of numerous grand prix and nations cup. He is one of the most successful ever Capitol 1 sons and now has several approved sons himself from a very short breeding period due to being withdrawn in 2000 due to infertility. For this reason and the successes of his progeny make Carthargo blood highly sought after.

Sire:
Sire:Quinar ZHolst Quidam de RevelSF Jalisco BSF Alme Z Tanagra DirkaSF Nankin Ondine de Baugy AdeleHolst Aloube ZHan Alme Gotendirndl Z Una CordaHolst Calypso 1 Flotte Dam:Cartouche Carthago ZHolst Capitol 1Holst Capitano Folia PerraHolst Calando 1 Kerrin ZarathstraHolst ChamissoHolst Cantares Kilima NixenbrautHolst Landgraf 1 EA
Dam: