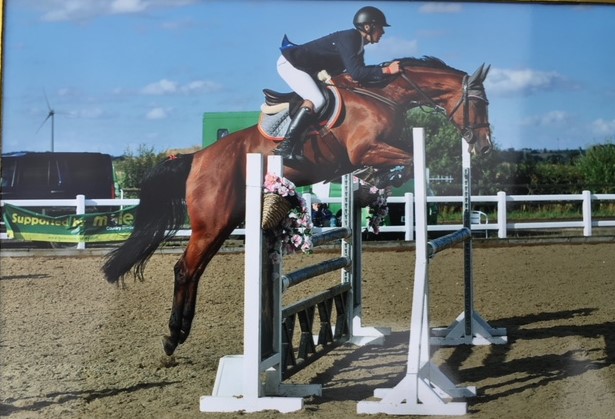 Millfield Loretta

Holstein premium foal
She comes from the stamm 1947 which has produced numerous stallions and sports horses and her Grand dam has already produced the licensed stallion Quanto. She has huge powerfull movement and scope over a fence.

Her dam Capri Sun is now proving herself in sport under Simon Buckley

She had a stunning filly foal byChacoon Blue born in February 2016 called Millfield Chacolatte.
She is now broken and ready to be produced further.
POA



Sire:
Lordanos 16.2hh 168cm 1993
Lordanos can look back on a growing number of highly successful show jumpers such as: Lou, (Meredith Michaels-Beerbaum), Let\\\'s Fly (Rodrigo Pessoa, Sieger CSI**** in Rom 2009), Lumos (Amateur Andres Branz, Victor in the big price of Mannheim 2008), Larissa (Dirk-Thomas Liehr), Lord Pik (Kai-Antonius Diekmann), Lucca (Anneke Wilharm), Larson (Heiner Rohrmann), Lex Lugar (Carsten-Otto Nagel, best horse in Aachen in the price of Europa 2008, Derby-winner 2010), Lord (Jurgen Kurz), Lissabon (Jens Baackmann), Lord Lohengrin (Karl Brocks), Lord Sandro (Uli Kirchhoff) und Laokoon (Hendrik, Janne und Gerd Sosath).

They and many others were successful in the advanced class. In 2010 the victory of Lex Lugar and Carsten Otto Nagel at the Hamburger jumping derby belongs to the most special results. The year before Hendrik was pleased about an excellent 4th place with Laokoon during the heaviest jumping of the world. Laokoon was in the same year a winner of a puissance show jumping competition.

Some more are placed or have won internationally around the world at1.60 m, such as Adriano M, Lazzarone, Le Grand or First Leon. FN breeding value for Lordanos is 144 points of inheritance for his jumping. Lordanos presents every year a good number of horses which qualify for the Bundeschampionat. After Lumos\\\' victory in Warendorf in 2004, Light On was a high placed finalist in the class for five year olds in 2007 and 2008 and a lot of the offspring were placed at the championates in the last years, in 2010, Lemwerder became Hannover champion.

The number of licensed Lordanos offspring has grown meanwhile up to 40. His daughter Lara Croft became winner\\\'s mare of the OS federation in 2008. In 2009 once more Lordanos appears as a dam�s sire of the OS-winner\\\'s mare Raja Luzandra by Ludwig von Bayern in Rastede.

Highly successful in dressage was Tailormade\\\'s Lancelot by Lordanos, who won the top competitions for young dressage horses in Denmark.

Dam:
16.2 hh 167cm 2009 Holstein stamm 1947 (see broodmares for reference)
Capri Sun\\\'s dam Laurelia has already sired a licensed son Quanto and a champion mare and this damline has produced such stallions as Cambridge, Mighty Magic and Clintord. Contender has more than 40 approved sons in Germany and is one of the most influential upgraders in German sporthorse breeding. He is one of the most versatile sires in Germany not only producing top show jumpers but also horses with excellent paces and his son Chicoletto has been very successful at 3 day eventing with Herbert Blocker.

Capitol 1 is considered one of Holstein\\\'s foundation sires and has a considerable top class stallion sons such as Cassini 1 & 11, Carthago Z and Calato and also has numerous offspring competing at the highest levels in show jumping. Calando 1 competed at the highest level and is the sire of numerous approved stallions and is featured in the pedigrees of horse such as Lux Z.