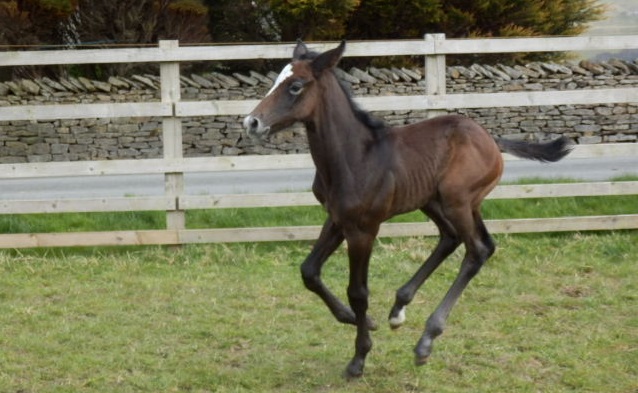 Millfield Chrisis
An exceptionally log legged colt who is very attractive and modern.

We know that this colt has a very exciting future ahead of him.

A future champion.
SOLD

Sire:
Christian 17hh 172cms 2006 Holstein
Christians foals know to inspire with charisma, modernity and powerful, elastic movements. He resoundingly passes on his long legs and scope in canter. Christian himself made his debut in the advanced jumping-course at the age of seven, placed directly in front in the international arena and, therewith, continued stringently his impeccable career. In 2012, he had qualified with top scores for the final of the Bundeschampionat for six-year old show jumpers, after placing eighth in the class for five-year old show jumpers under Gilbert Bockmann in 2011. Now, with more than 50 victories and placings he is seen as the greatest prospect for all the really big jobs.
His sire, Cartani, is the result of breeding the two-time Olympic stallion Carthago Z to WC team gold winner, Taggi. Cartani himself was Holsteiner Premium Stallion, qualified twice with top scores for the Bundeschampionat and competed several times as a member of the Danish team under the saddle of Charlotte van Ronne, at last at the 2013\\\\\\' European Championship in Herning/DEN. Cartani presented several licensed sons in Oldenburg, Holstein and Belgium.
Cartani\\\\\\'s dam, Free Lilly (sport name: Who knows Lilly), participated in the 2004\\\\\\' Olympic Games in Athens/GRE.



The granddam, Miss Playback, is dam of the licensed stallions Liberty Life (by Lord Liberty), Lord Pezi and Lord Pezi Two. Liberty Life placed on fifth rank at the 1996\\\\\\' Bundeschampionat for six-year old show jumpers and, later, competed successfully under Gilbert Bockmann in Nations Cups, for which he was awarded the title VTV-Jumper Stallion. Lord Pezi (by Lacros), who was stationed in Hamstrup in those days, placed as well in advanced level show jumpings and is, among others, sire of Louis/Beat Mandli/SUI, who ranked tenth at the European Championship. His full brother Lord Pezi Two achieved successes up to advanced (S) level show jumpings, too.
Dam:
Millfield Selma 1999 16.0 hh 160cm KWPN Ster (see broodmares)

Selma was bought as a potential eventer and broodmare because of her fantastic pedigree and her very light, modern type frame. She did however show fantastic scope and ability show jumping, qualifying for all the novice competitions in her first season in 2006/7. Not only is she ultra careful but has a fantastic temperament, unfortunately she retired due to injury.

Selmas offspring are doing great things in sport.Millfield Darin is a licensed stallion and a very exciting 7 year old. Millfield Enrico and Figaro are also ones to watch.

Her sire, Lux Z was one of the most successful stallions in international showjumping. with Jerry Smit, Lux Z participated in the 2000 Sydney Olympics and he won the Pulsar Crown competitions in Valkenswaard and Cannes bringing Lux Z\\\\\\'s total winnings to more than a million euro. His sire, Lord Calando (Lord), is just like the world-famous jumping stallion Carthago Z (Capitol I), bred out of Perra (Calando I). Lord Calando is the sire of many international showjumping horses. The Hanoverian stallion Lux Z was bred at Zangersheide Stud Farm out of the Holstein mare Apocalypte Z (Ahorn Z), a product of lineage 2543. Lux Z has produced foal class champions, mare class champions and showjumping competition winners and in the Netherlands, Lux Z supplied no less than five licensed sons including Lupicor-H and Non Stop. Selmas dam line is a Holstein one from the stamm 4705 which produced Rocadero, Levantos 1 & 11 and Catoki. The dam Landjuweel is by Calato who is one of the most accomplished sons of the sire of show jumpers Capitol I, who passed his exceptionally great aptitude for jumping. Calato was bred out of a daughter of the Holstein sire of the century, Landgraf I. The grand dam Brasilia was also by the infamous Landgraf 1 and the great grand dam Ucera is by Calypso 1who like no other Holstein stallion, presented exceedingly versatile progeny. Ucera also produced the stallion Land Earl and her daughter Fucera produced the stallions Chalan and Chateau.

Select a video: