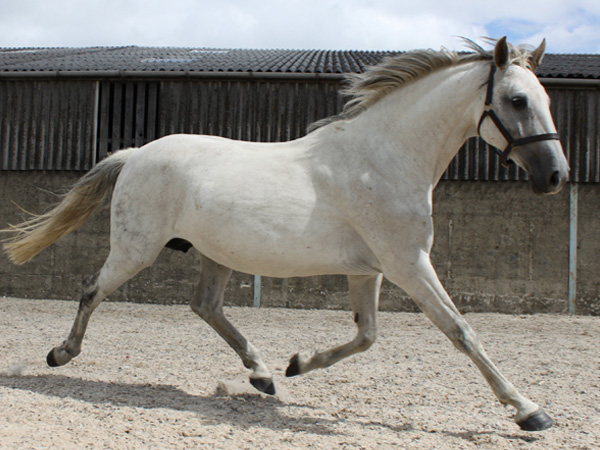 Ragna
Ragna is an extremely elegant and modern example of a Holstein mare. She is superbly athletic on the ground and over a fence. She has already produced a high premiumed filly who was sold to Brazil, can be seen here.

SOLD
She is from the stamm 4539 which is responsible for the stallions Chin Chin, Lordano and Cordobes 1 & 11. She has produced a beautiful bay colt by Con Air (Contender) born 15.6.2007 called Millfield Cooldude.
She has had a lovely filly foal by the super stallion Parco in June 2009 called Millfield Pari.
This year she has a lovely bay colt called Millfield Landric by the super stallion Landor S (www.gerd-sosath.de)
In 2010 she has a lovely premium bay colt called Millfield Landric by Landor S. She is offered for sale due to overstocking.
Sire:
Lancing 16.1hh 165cm 1986
International Grand Prix show jumper and taken to victory with Bo Kristofferson as a five-year-old winning the prestigious Bundes championship (German National show jumping championships). Lansing is a producer of champion approved stallions, State Premium mares and Premium foals and a record holder for the top priced unapproved stallion. He has numerous sons and daughters competing in sport. More recently, in the Dutch town of Zwolle, where the best stallions in jumping and dressage are found, Lakebid, a son of Lansing, was named best Holsteiner and also became Holsteiner champion stallion of 2001.
Lansing is from the same mare, and thus a half brother to the superstar stallion, Calvin Z, who has produced world champions at both age group levels and grand prix levels. His dam, Monoline, is also the dam of progenitor, Cantus, who sired the legendary show jumping gold medalist winner, Calvaro V, and the stallions Come On, Callido 1, Callido 11 and Cascavelle.
At the Holstein auction in 2006 the highest priced 4 year old stallion was sired by Lancing and the third highest price paid for a 4 year old again was sired by Lancing.
Dam:
Miss Badendorf 16.2 hh 169cm 1997
Miss Badendorf\'s is by the infamous Contender and her Grand Dam the state premium mare Badendorferin by Constant produced the approved stallions Libertino 1 & 11. Her Great Great Grand Dam produced Lordano with the the famous Larese being the mother of the Internationally renowned stallion Chin Chin.