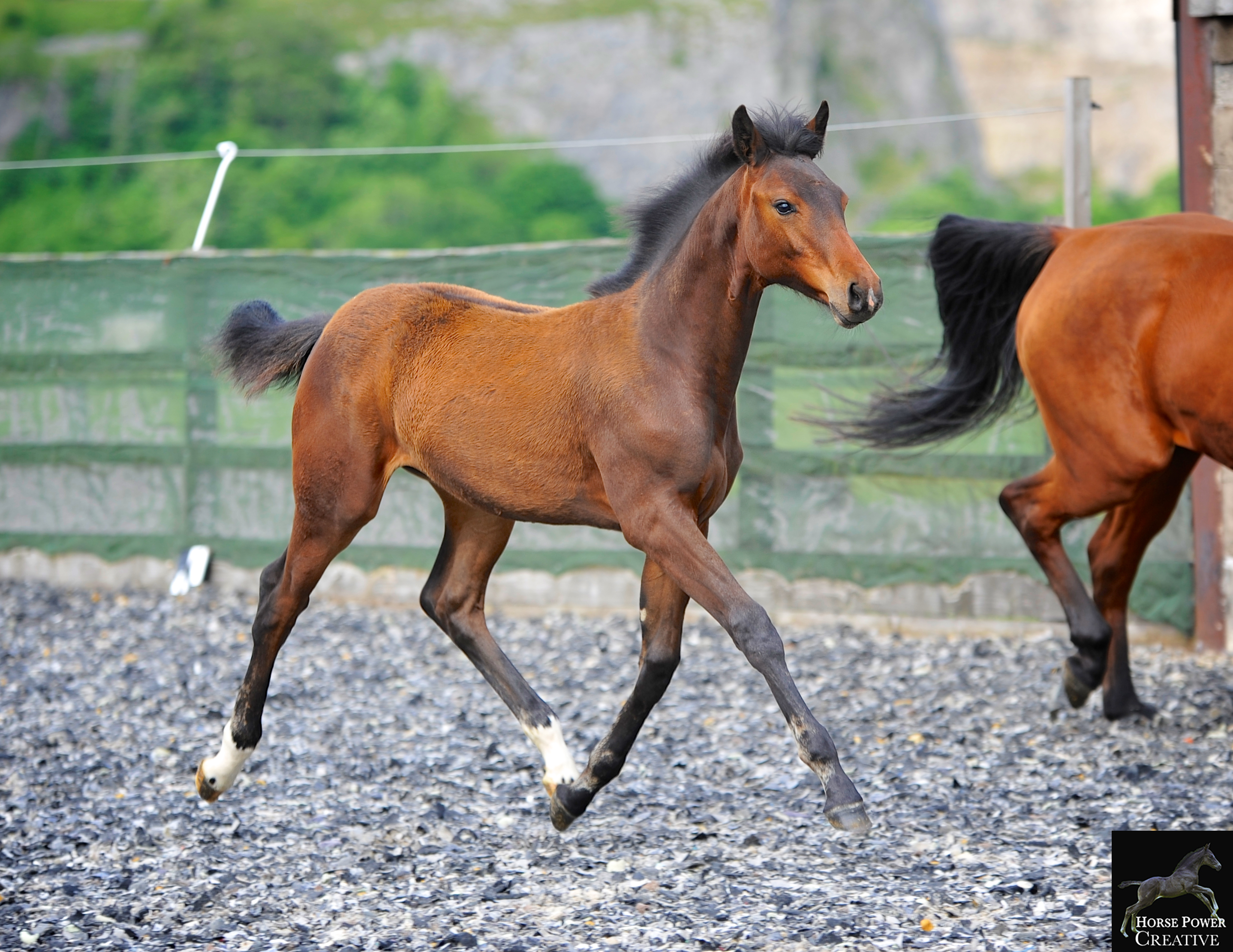 Millfield Chacolatte
A very beautiful filly with a super attitude and excellent paces. Her grand dam, Capri Sun is a successful sports horse under Simon Buckley.
She will be an asset to anyone for sport or breeding being from an excellent proven damline
Sire:
Chacoon Blue is an impressive, well put together and lightly built show jumping specialist in a beautiful grey coat, bred from the outstanding dam line of the Olympic winner Askan. Well-defined lines and a true affinity for performance are prominent characteristics of this young stallion. His canter and the quality of his jump from the perspective of scope, manner and leg technique are excellent. His potential seems almost limitless. In 2014, he finished his 30-day-test in Schlieckau as one of the three equal jumping winners with the sensational jumping based end score of 9.40. For free jumping, with his jumping pre-disposition and his character, he earned the maximum mark of 10.0. Chacoon Blue made a fantastic sporting debut with numerous winnings and high placings in A, L and M show jumping classes, was then the impressive winner of the Dobrock show jumping championships in 2015 and, with convincing courses every day of the competition, placed participant and finalist at the German national championships of the six-year-old show jumping horses. In 2015, Chacoon Blue stood at stud for the first time.
After over 30 wins in A, L and M level show jumping classes, his Mecklenburger sire, Chacco-Blue, was highly placed twice in the finals of the national championships of German show jumpers. He was successful internationally at Grand Prix level with Alois Pollmann-Schweckhorst and Andreas Kreuzer, an example being in Neumünster in 2012, before leaving the scene far too early. Chacco-Blue sired more than 30 licensed sons and 183 advanced level/S level show jumpers, who have so far won more than 1.31 million euros and placed their father in tenth place in the 2015 WBFSH world ranking. His dam sire Cartoon, only at stud for a short time whilst being active in sport, has sired a higher than average number of successful advanced level/S level horses for the little time he was standing. The known performance sires Domino, Winston, Almhügel III and Agram appear in previous generations of the pedigree.
The great grand dam Akelei Z is a full sister to the team Olympic Champion Askan 4/Gerd Wiltfang. Her line goes on to the significant Hanoverian mare family 33/Agenda (by Agram-Alex etc.), from which came 25 licensed stallions, amongst them Aramis Z (privately owned stallion, Bavaria, NL, HUN), Askan, Gaston and Sao Paulo (Ldb./stud Celle), Aventinus, Charity, Saskan and Senatsrat, (privately owned stallion, Oldbg.), Douceur (Ldb/stud Warendorf), Exquisit (Ldb./stud Dillenburg), Gavi (privately owned stallion, Hanover, internationally successful with Helena Weinberg and Hilmar Meyer), Gerald (privately owned stallion, Rhld.), Godewin (privately owned stallion, Hess.), Laudatios (privately owned stallion, Sachs.), Lightning Star (Ldb./stud Marbach), Lunatico and Roquefort (privately owned stallion, Bavaria), Werbellin and Wertherson (USA) as well as the internationally successful show jumpers Don Ramiro/Hugo Simon (AUT), Dusty Donelly/Hardy Diemer, Let's talk about/Gerardus Krijnen, Salvador 3/Harvey Smith and Sir Lavendel/Markus Keil.
Dam:
She comes from the stamm 1947 which has produced numerous stallions and sports horses and her Grand dam has already produced the licensed stallion Quanto. She has huge powerfull movement and scope over a fence.
Her sire Lordanos has produced countless top International sports horses.

Her dam Capri Sun is now proving herself in sport under Simon Buckley andCapri Sun's dam Laurelia has already sired a licensed son Quanto and a champion mare and this damline has produced such stallions as Cambridge, Mighty Magic and Clintord. Contender has more than 40 approved sons in Germany and is one of the most influential upgraders in German sporthorse breeding. He is one of the most versatile sires in Germany not only producing top show jumpers but also horses with excellent paces and his son Chicoletto has been very successful at 3 day eventing with Herbert Blocker.