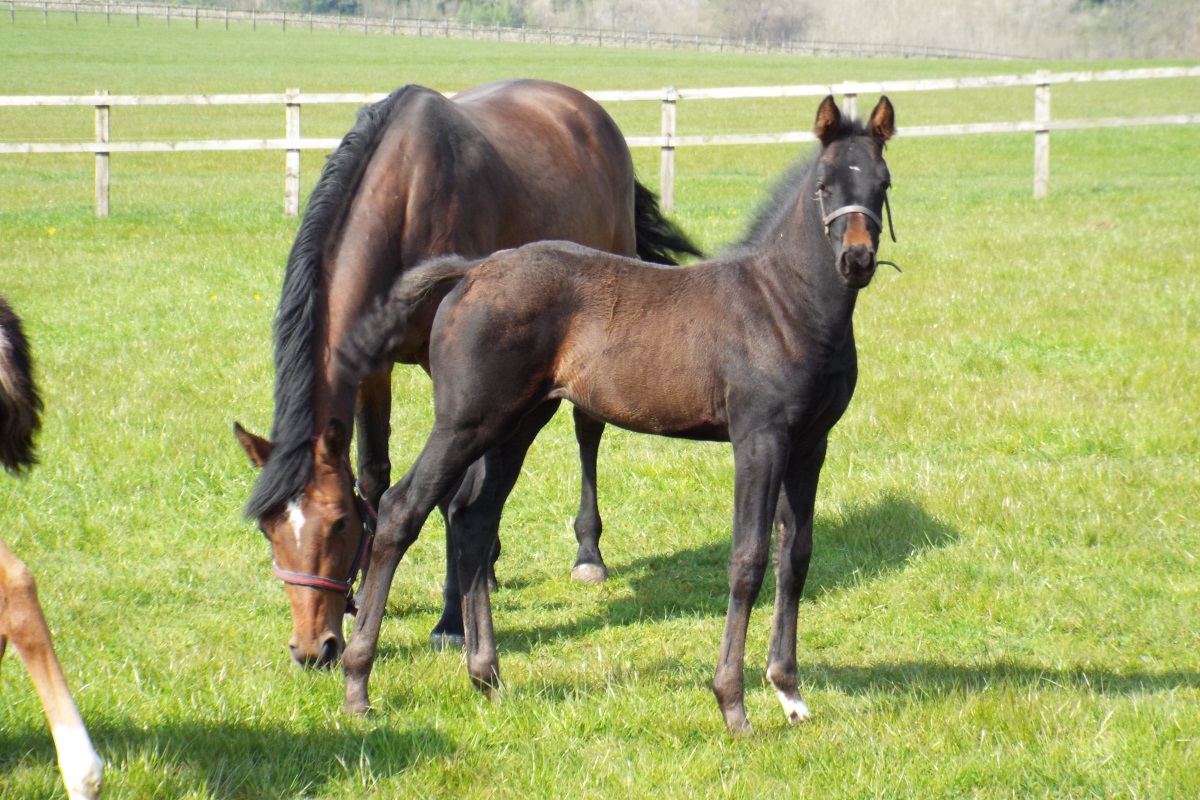 Millfield Lollypop
A striking filly with a lot of power and blood. A true modern day sports horse who is very athletic with a super character. Her grandmother Quibelle has produced an approved stallion in Denmark also by L'arc de Triomphe.
Sire:
L'Arc De Triomphe's sire, Landor S, is emerging as a top sire, ranked WBFSH show jumping sire # 69. His international offspring include Lobster, Lara G, Lord G, Loup Garou, Lauterbach (2004 OS Champion Stallion) and State Champion, Lagero. Not to mention European Championship gold medalist Loriot S and London Olympic Bronze medalist Blue Loyd. He had sired more than 30 licensed sons to date.
Praeludium also produced international competitor Latin Lover and Quattrophonie. Second dam, Gybsi, jumped and won at 1.50m ridden by Gert Wiltfang. She also produced Prior , brother of Praeludium and very good winner in CSI for the USA.
L'arc de Triomphe was sold at the Fences 3yr old auction for 460,000 euros. He had a short jumping career before retiring to stud as an elite sire in 2003 with ISO 132 (04) and BSO +20 (0.94). L'Arc De Triomphe has sired the French 5 yr old champion, the 5 yr old criterium winner and the vice champion eventer. He sired 36 CSI winners including, amongst others:
Qlassic Bois Margot, winner of the GP of the city CSIW5 * Bordeaux, winner of the GP of the city CSIW5 * Mechelen, 2nd GP 1m55 Championship City of CSI 4 * Salzburg, 3rd GP CSI3 * Lummen, 4th GP to CSIW5 * Oslo, 5th GP 1m60 * CSIW5 in Helsinki , 7th of 1m55 test in 2 innings CSI5 * Gucci Paris Masters, 6th GP 1m55 at CSI3 * Frankfurt, 5th GP 160 * CSIW5 to Lyon with Simon Delestre in 2012, ISO 157 (12).
Quintonine Pas, 3rd GP at CSI3 * Comporta 2 times ranked CSI5 * Global Tour of Valencia and CSIO4 * Copenhagen , ISO 150 (12).
Quala, 3rd in the 1.45m event CSI3 * Arezzo, 8th of GP CSI2 * San Remo Mr. Grossato, ISO 149 (12)
Quoit'Or, ranked CSIO4 * from Lisbon, Global Tour of Valkenswaard and CSI2 * La Coruna, ISO 140 (12)
Rafale Forestry champion of France of 6 years in 2011 , ISO 147 (11) and GP winner of 7 and 8 years CSIO5 * Dublin Pius Schwizer â-?
Quality Gulf, 4th of Chpt de France 7 years and 4th the test of CSI2 * 1m40 Fontainebleau, ISO 145 (11)
Quool du Bois Margot, 9th of 1.50m event at CSI3 * Vichy, ISO 148 (10)
The average selling price of his offspring in 12 auctions in Europe in 2011 is €36 500.
L'Arc De Triomphe gives power, scope and an excellent jumping technique. He is an excellent producer of blood types and adds balance and good movement. His offspring display a nice shoulder, good mouths and nice neckline.
Dam:
A very attractive bay mare who was awarded a premium by the Oldenburg Verband as a foal. She is exceptionally athletic with well above average paces, very trainable and has a huge scopey jump. She comes from a very successful mare family and is the ideal stamp of a modern type top class show jumper and an asset to our future breeding programme. Her half brother by L'arc de Triomphe sold for 20,000 euros at the 2009 Zangersheide elite foal auction and was purchased by Paul Shockemohle who subsequently sold him as licensed stallion for 250, 000 euros. See broodmares -Quitania for full details