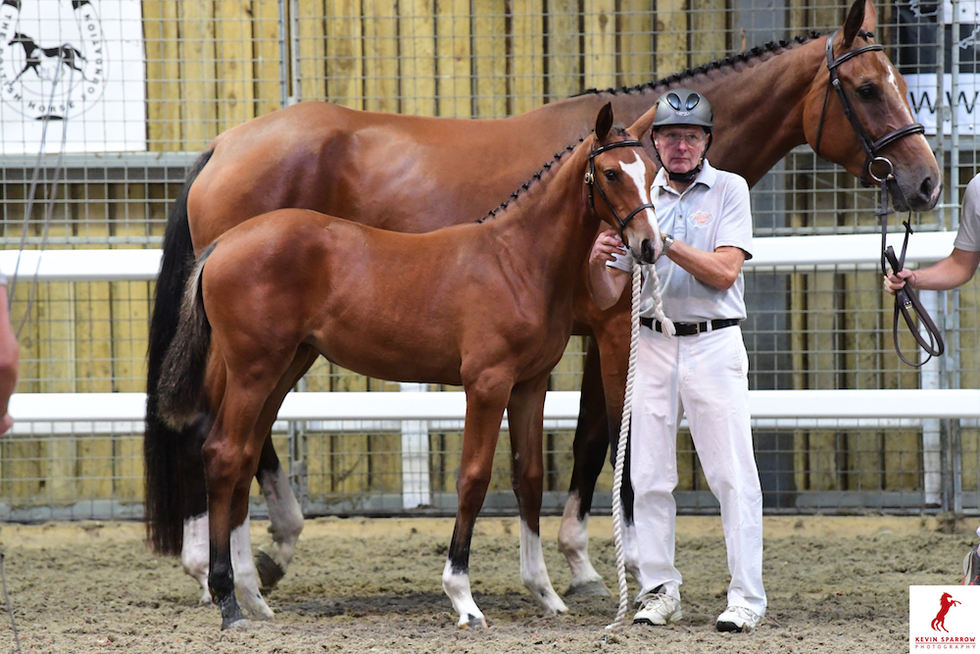 Millfield Bambalina
A stunning modern leggy filly by the super stallion Balou Star.
She was Champion at the Elite foals Registration tour day at Millfield Stud and then went on to be reserve champion at the final.
She was also given an Elite at the British Bredding Futurity with a score of 9.
Proven damline and all the attributes to make a top class sports horse for the future.
For video and full details follow link below
https://british-breeding.com/database/826002180882314-millfield-bambalina/18128
Sire:
Balou Star
The star in the Show Jumping Sky with a unique pedigree.
Outstanding in scope with an ideal technique, descending from a pedigree of absolute worldwide recognition – that´s how to describe Balou Star in just a few words. In type he is a noble and blood-marked athlete with a big heart, quick reflexes and a huge stride with very large ground coverage. Due to his excellent technique, his high elasticity combined with great carefulness and lots of scope, the stallion leaves a lasting impression when jumping!
By reason of his movements and his extraordinary jumping ability, Balou Star was licensed in Alsfeld in March 2008, receiving the maximum possible score of 10,0 for jumping. Thereafter, and in a field of 42 international top horses, he twice achieved the maximum possible score of 10,0 for jumping manner and ability at the 30-days-test in Schlieckau.
In the 2013 season Balou Star was ridden by Hans-Dieter Dreher at International Youngster tours, including the International Youngster Cup at the occasion of the 2013 Global Champions Tour in Wiesbaden. There in the final, he achieved the respectable 8th place as the second best German horse. Then he reached remarkable successes at 1.45-1.50m level under Angelique Ruesen in Dortmund and Mannheim and under Hartwig Rohde in Rastede and Elmlohe
Because of his outstanding sporting achievements, Balou Star received the full recognition as a stallion by the Oldenburg International Breeding Association (OS) and, thereafter, by Hanover.
Balou Star's two grand sire BALOUBET DU ROUET and QUICK STAR belong to the world's most desirable sires of our time. Both are sons of their common sire GALOUBET A, whose father is no less than the "Century Stallion" ALME Z!
In addition, Quick Star's dam STELLA offers 3 times those extraordinary genes of the fabulous Arab thoroughbred stallion and exceptional performance sire DENOUSTE. His genes have been the absolute benchmark in European equestrian racing for decades. Furthermore, the dam line in the 3rd generation goes back to DOMINO, which represents the successful Hanoverian Schockemöhle show jumping blood.
Sire: BALOU DU ROUET is a world-class sire who, in 2016, ranked 7th in the WBFSH world ranking with a total of 51 licensed sons. His father Baloubet du Rouet was an exceptional athlete and under Rodrigo Pessoa triple World Cup winner and individual Olympic champion. Twice (by father and by mother) the unforgettable Almé son Galoubet A appears in the pedigree of Balou Star. The star sire Almé by IBRAHIM has virtually influenced all European warmblood breeds. Descendants of the Almé can be found at all international show jumping events and Olympic medal ranks. The dam line goes back to Domino in the 3rd generation, which represents the successful Hanoverian Schockemöhle show jumping blood.
Dam: QUENADA derives from the legendary Quick Star. This designated Meredith Michaels-Beerbaum as the most important horse of her career, as he helped her to international fame. Quote: "He was a phenomenon, an incredibly impressive appearance. He had springs under the hooves".
The absolute peculiarity in the genetics of this amazing stallion BALOU STAR is thus the firm anchoring of the ALME Z – success genes both on the father, as well as on the mother side, as well as the appearance of the three (3) world-class stallions BALOUBET DU ROUET, QUICK STAR and DENOUSTE
Performance Record
Balou Star is currently acting YR Team European Champion 2017. He has been based in England since November 2014 and he is highly successful in the international show jumping arena under his British rider Millie Allen, who is currently the most successful youth rider in Europe holding a total of eleven (11) FEI medals and being a member of the "British World Class Podium Potential Squad. Millie and Balou Star have so far won three (3) FEI medals at three (3) consecutive FEI YR European Championships and continued to excel into the 1.60m class, including outstanding achievements and recognition.
• TEAM GOLD at the 2017 European Championships (1.50m) of the Young Riders in Samorin,
• TEAM & SINGLE BRONZE at the 2015 European Championships (1.50m) of the Young Riders in W.N.
• 1st place Morris Scotland 2017, 1.45m U25 London Olympics Qualifier
• 1st place Edinburgh 2016, Royal Highland Show, 1.55m International Stairways
• 1st place Paris Grand Palais 2016, CSI U25 Les Talents Hermes
• 1st place U25 Grand Prix Liverpool 2017,
• 2nd place U25 Grand Prix London 2016 International Horse Show / Olympia Hall
• 4th place CSI2 * 2016 Global Champions Tour London
• 6th place CSIO3 * 2016 Roeser, Luxembourg
Dam:
Millfield Christina
Cristallo I has proved to be an athlete of international caliber, and his offspring are establishing him as a reliable performance sire of especially high quality.

Having been a premium stallion at the Westphalian licensing, Cristallo I has had a very successful career as a young stallion. He was the Reserve Champion of the 4 year old stallions at the 2007 Optimum under Ingrid Klimke. In 2008, he went on to win two qualifying shows for the Bundeschampionate under Henrik von Eckermann, and won 8 M Level classes for young jumpers in a row. At the 2008 Bundeschampionate, he was 2nd in the qualifying round with an excellent score of 8.7 and competed in the Finals for the 5 year old Jumpers.
In 2009, he again demonstrated his absolute willingness to perform putting in four remarkable clear rounds at the Bundeschampionate. He finished 2nd in both of the qualifying rounds with scores of 8.7 and 8.6, and scored an 8.8 in the final round advancing to the jump off where he finished 8th overall.

In 2010, the seven-year-old Cristallo I took the hurdle to advanced (S) level classes. With countless clear rounds, he was ready for his first international competitions, and he proved this placing in Hachenburg and Rulle. He also set accents as a sire: Champion Foals, e.g. in Sudweyhe; top auction horses; 10 State Premium daughters; the Champion Jumper Mare at the Elite Broodmare Show in Westphalia as well as Rhineland; and offspring that won tests for young riding horses. All of this catapulted him to the TOP 1 % in the FN's predicted jumper breeding value statistics in 2010.

Cristallo's sire, Cornet Obolensky, who is by Clinton, is one of the most successful stallions on the international show jumping scene. His dream career got off to a rocket start. The second Reserve Champion at the licensing in Münster-Handorf, his first crop produced 14 sons that were licensed - and with the seven that were approved for breeding at the 2008 NRW licensing, the number of Cornet Obolensky's licensed sons has increased to nearly 40.

As an 8 year old under the double European Champion and Olympic bronze medalist, Marco Kutscher, Cornet Obolensky won Grand Prix and Nations Cups such as the Samsung Super League Final in Barcelona/ESP which he also won again in 2008. He was placed on the German Olympic team in 2008 after having won bronze at the German Championships and in the Grand Prix of Balve and Cervia/ITA as well as first place in the Nations Cup of Rotterdam/NED.

Cristallo's dam, Cassie, who was known in sport as Cascavella 2, was a successful jumper mare up to medium (M) level. The dam's sire, Cassini I, is beyond any shadow of doubt: His sons, the gray Holstein stallions, Cumano and Caspar (alias Berlin), for example, were individual and team World Champions respectively. The granddam, Profilda, is another guarantee for performance. She won ribbons up to advanced (S) level under her sport name, Papaya 19. She is also a full sister of the licensed stallion, Pocalino (State Stud Warendorf, a Bundeschampionate participant who has also placed in international advanced (S) classes) and the dam of a successful sport mare named Cosima 144 (by Calido I) who was successful in show jumping up to medium (M/A) level.
2003 Grey 16.2 1/2 hand Westphalian
Approved for: Hanoverian, Westphalian
30 Day Performance Test 2006 Münster-Handorf: Overall: 8.33, Dressage: 8.29, Jumping: 8.20
German Bundeschampionate 5yo Jumping Horses Qualification: August 1, 2008, Mark: 9.000
German Bundeschampionate 6yo Jumping Horses Qualification: July 1, 2009, Mark 8.200

Select a video: