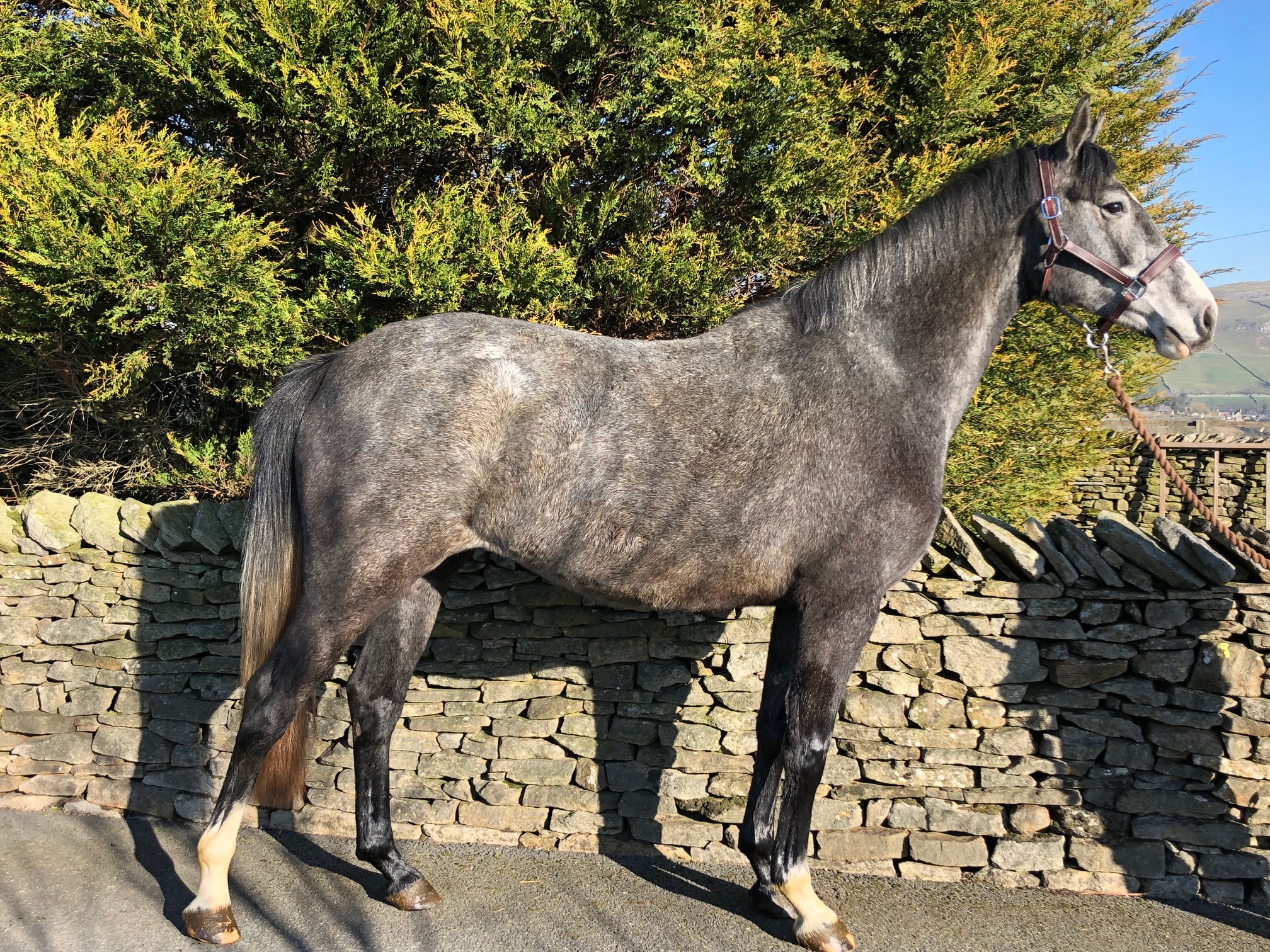 Millfield Clare De La Lune
Clare is a tall modern filly with excellent movement and very good technique over a fence.
Her dam has produced Millfield Long Socks jumping 1.30, also Millfield Bamboozle who was sold to France jumping 1.20 and Millfield Lyric contesting young horse classes this yaer.
Only for sale as we need to reduce numbers for this years foaling season.
Unbroken but well handled and currently lives in a herd.
SOLD
Sire:
Clinton 1
With a beautiful exterior, bright eye and optimal proportions Clinton I presents himself as true capital stallion.
Clintons sire Carolus was victorious up to advanced level. Full brother Carolus II has won more than 200,000 Euros. Five offspring of dam Waage are successful up to advanced level. Clintons full sister Chica Bay won at S*** level. She is mother to Levisto, who won his stallion performance test with an overall score of 156 points (dressage 150, show jumping 137). Levisto was seventh in the World Cup at the Stuttgart Masters. Dam line 4965 provided further the show jumpers Padua with rider Ralf Schneider, Sonora la Silla with Jan Tops and Poor Bay with Beat Mändli. Clinton's achievements in sports with rider Thomas Voß are outstanding: Two times winner of the Swedish Derby, successful in Qualifications to the World Cup and in its Finals, fourth in German Championships and fourth at the Grand Prix of Aachen, Winner of the Nations Cup.
The total amount of his earnings is more than 200,000 Euros.
The actual estimation of Clinton I's breeding value is 150 points.
Dam:
Fair Play is a State Premium mare who is also trained up to medium level dressage. At her mare performance test she was placed 1st out of 82 mares and received 9\\\\\\\\\\\\\\\\\\\\\\\\\\\\\\\\\\\\\\\\\\\\\\\\\\\\\\\\\\\\\\\\'s for her walk and trot, 9.5\\\\\\\\\\\\\\\\\\\\\\\\\\\\\\\\\\\\\\\\\\\\\\\\\\\\\\\\\\\\\\\\'s for her canter and loose jump and 8.5 for rideability. She was also placed 1st at the Rhineland mare show and 4th in the European mare show in Brussels. She has already produced a stallion son by Munchhausen. She has been on a dressage yard /stud in Germany after being purchased for a large sum of money as a 3 year old. She has competed with us for a winter season show jumping where she competed at Foxhunter level. Her sire Ferragamo is by Freigraf who is by the legendary Furioso 11. Freigraf was campaigned very successfully by the Paul Schockemohle stables becoming the national vice-champion show jumper in 1992 at Verden. Ferragamo was vice-champion at his approval and runner up at his performance test gaining a score of 10 for rideability. He then went on to produce 12 approved sons from his first batches of foals and his son Falcone was sold for a record 280,000 DM at the Elite auction.Fair Play\\\\\\\\\\\\\\\\\\\\\\\\\\\\\\\\\\\\\\\\\\\\\\\\\\\\\\\\\\\\\\\\'s dam is by Damenstolz who was a highly modern and very handsome stallion who goes back to Duellant via Duft 1 who revolutionized the dressage sport.
Select a video: