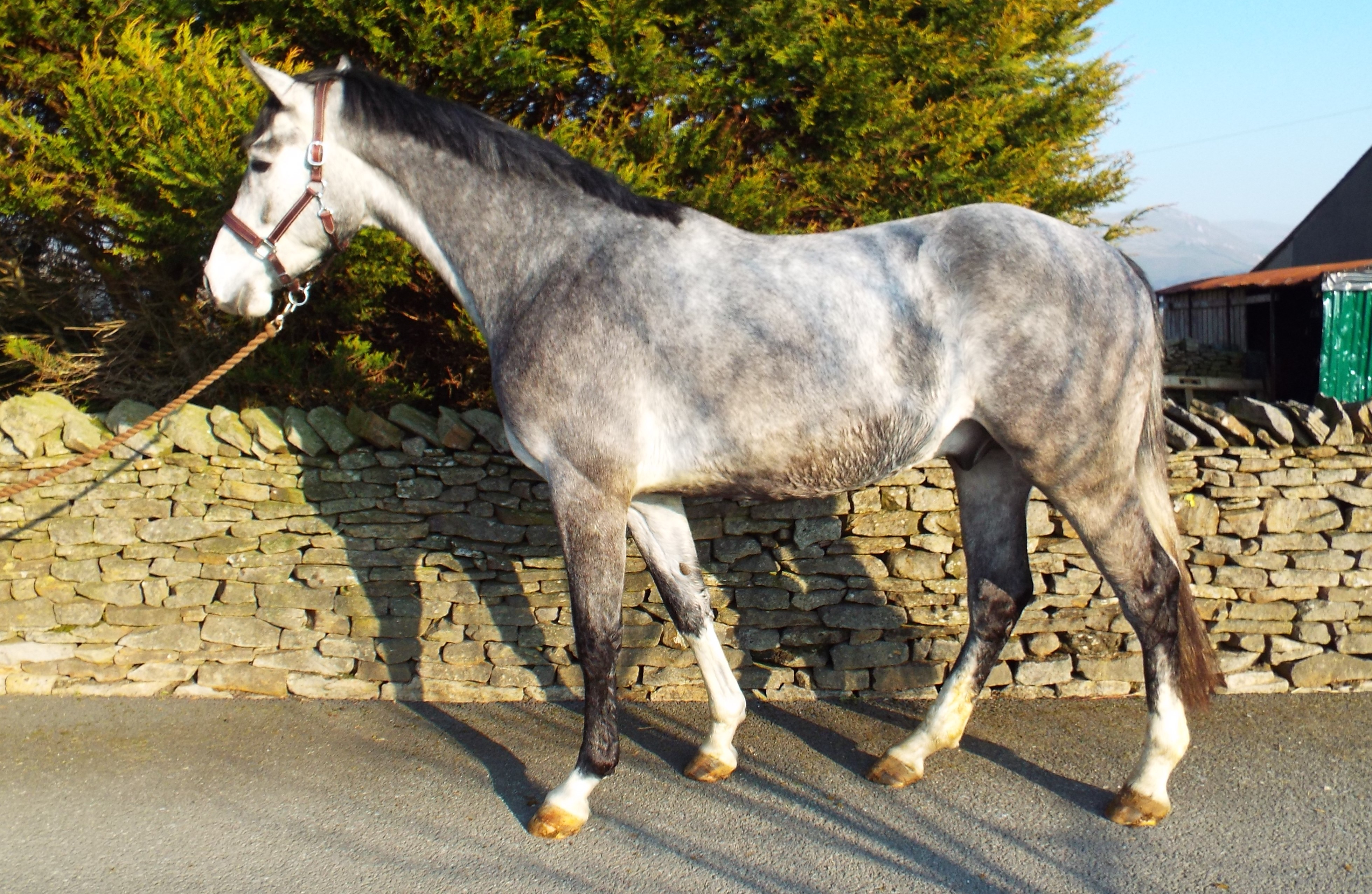 Millfield Le Lion
Millfield Le Lion or Leo as he is known at home is an extreemly attractive grey gelding with 4 white socks.
He is half brother to Millfield Counterfeit who is jumping Successfully with Simon Buckley and also the Grade B horse Millfield Verve who is competing at 1.40 now.
He has a superb temperament and lovely big loose paces.
He shows penty of scope over a fence and has good technique.
He competed lightly as a 4 year old in 2020 with Simon Buckley and is now back with him to be produced for 2021
SOLD to the USA
Sire:
Levisto Z has over 22 offspring at 1.60m level and more than 30 approved sons... The white super star is famed for his riding qualities and mentality which he passes on to his offspring. The highest level today sports names like Jennifer Gates with her Levisto's Pumped Up Kicks and Luftikus S, Katharina Offel with Leasure Z and we see numerous young talents such as Neal Fearons´ impressive grey mare Lykke Li-Terma Z storming the gates.
First dam:
HIRTIN ( Chica Bay ) ( Holst, 1993, grey mare by Carolus I ) Level 1.60m with Paige Sorce (USA) 3rd CSI-A 2002 - Grand Prix Leeuwarden (NED) (1.60m) ; 6th CSI-A 2002 - Grand Prix Zuidlaren (NED) (1.60m) ;
LEVISTO Z ( Holst, 1997, grey stallion by Leandro ) Approved for: Hann, Holst, Old, SF, Sachs, Z, Bay, SaThü, BA Level 1.60m Judy-Ann Melchior (BEL) 4th CSI5* 2007 Lyon (FRA) (1.60m) ; 4th CSI-W 2005 - Grand Prix 2005 Helsinki (FIN) (1.60m) ; 5th CSI5* 2009 - Grand Prix (Final GCT) 2009 Rio de Janeiro (BRA) (1.60m) ; 5th CSI-W 2006 - World Cup 2006 Oslo (NOR) (1.60m) ; 6th CSI5* 2010 - Grand Prix (Global Champions Tour) 2010 Hamburg (GER) (1.60m) ; 6th CSI-W 2006 - Grand Prix 2006 Helsinki (FIN) (1.60m) ; 7th CSI5*-W 2010 - Grand Prix 2010 Vigo (ESP) (1.60m) ; 7th CSI4* 2009 - Grand Prix 2009 Wiesbaden (GER) (1.60m) ; 7th CSI5*-W 2007 Stuttgart (GER) (1.60m) ; 8th CSI5* 2007 - Grand Prix (Global Champions Tour) 2007 Arezzo (ITA) (1.60m) ; 9th CSI5* 2010 - Grand Prix (Global Champions Tour) 2010 Valkenswaard (NED) (1.60m) ; 9th CSI5* GCT 2010 Valkenswaard (NED) (1.60m) ; 10th CSI5*-W 2007 - World Cup 2007 Mechelen (BEL) (1.60m) ; 6th CSI4*-W 2008 Leipzig (GER) (1.55m) ; 3rd CSI5*-W 2009 Stuttgart (GER) (1.50m) ; 6th CSI3* 2006 - Grand Prix 2006 Arezzo (ITA) (1.50m) ; 7th CSI3* 2007 - Grand Prix 2007 Dortmund (GER) (1.50m) ; 10th CSI3* 2012 Liège (BEL) (1.50m) ; 10th CSI3* 2012 - Grand Prix 2012 Hannover (GER) (1.50m) ; 10th CSI5*-W 2008 Mechelen (BEL) (1.50m) ; ETC...

Cantarel LS ( SLS, 2007, grey stallion by Fergar Mail ) Approved for: SLS

Chica's Boy ( Holst, 2007, brown gelding by Canto ) Level 1.50m Paige Sorce (USA)

Levisto Alpha Z ( Z, 2009, grey stallion by Leandro ) Approved for: Z Level 1.40m Annika Axelsson (SWE) and Adam Morgan (IRL)
2nd dam:
Waage I ( Holst, 1984, black brown mare by Calypso II )
Däsy ( Daesy 1 ) ( Holst, 1989, dark bay mare by Alcatraz )

Hotline ( Holst, 1993, mare by Calato Z ) dam of Chelino 3 ( BAD-WÜ, 2003, bay gelding by Conway I ) Level 1.45m , dam of BANCA POPOLARE BARI CASSANDRA ( Chantira ) ( Holst, 2004, grey mare by Cash and Carry ) Level 1.60m , dam of Livingston 23 ( Holst, 2009, grey gelding by Larimar ) Level 1.40m , dam of Ciawaj GZ ( Holst, 2010, bay mare by Larimar ) Level 1.40m ,

CLINTON I ( Holst, 1990, grey stallion by Carolus I ) Approved for: Hann, Holst, Old, SF, SA, OS, BALevel 1.60m Thomas Voss (DEU) 2nd CSI-W 2000 - World Cup 2000 Oslo (NOR) (1.60m) ; 3rd CSI-A 2000 - Grand Prix 2000 München (GER) (1.60m) ; 4th CSIO4* 2001 Aachen (GER) (1.60m) ; 4th CSI-W 2001 - World Cup 2001 Dortmund (GER) (1.60m) ; 4th CSI-W 2001 - World Cup 2001 Bordeaux (FRA) (1.60m) ; 4th CSI-W 2000 - World Cup 2000 Helsinki (FIN) (1.60m) ; 4th CSI-W 2000 - Grand Prix 2000 Oslo (NOR) (1.60m) ; 7th CSI-W 2000 - Grand Prix 2000 Berlin (GER) (1.60m) ; 10th CSIO4* 2001 Aachen (GER) (1.55m) ; 10th CSI3* 2004 - Grand Prix 2004 Neumünster (GER) (1.50m) ; 1st CSIO*** 2001 - Nations Cup 2001 Ikast (DEN) ; 1st CSIO 2000 - Derby 2000 Falsterbo (SWE) ; 1st CSIO 1999 - Derby 1999 Falsterbo (SWE) ; 1st CSIO 1999 - Nations Cup 1999 Falsterbo (SWE) ;

G-Casablanca ( Holst, 1992, grey mare by Carolus I )

SCLINTURA ( Holst, 2002, grey mare by Canturo ) Level 1.60m Monika Noskovicova (SVN) 1st CSI3*-W 2011 - World Cup 2011 Pezinok (SVK) (1.50m) ;

V-Dolly ( Holst, 2005, grey mare by Tlaloc la Silla ) dam of Allypierre ( Holst, 2008, grey mare by Casall ASK ) Level 1.50m , dam of Favourite Dollar ( Holst, 2009, grey gelding by Favoritas xx ) Level 1.40m , dam of COOL CASH ( Old, 2011, bay mare by Cadensky ) Level 1.50m ,

Cantoblanco ( Holst, 2006, black brown stallion by Canto ) Approved for: Hann, Holst, Old, SA, OS, SaThü, BA Level 1.35m Leonie Böckmann (DEU)

Conblanco ( Holst, 2008, chestnut gelding by Contendro II ) Level 1.40m Simon Salame Farca (MEX)

Diadalma SM ( Holst, 2011, black mare by Castelan 3 ) Level 1.20m Monika Noskovicova (SVN)

HIRTIN ( Chica Bay ) ( Holst, 1993, grey mare by Carolus I ) : see above

CLINTON II ( Holst, 1994, grey stallion by Carolus I ) Approved for: Hann, Holst, Old, SF, OS, MV Level 1.60m Alois Pollman-Schweckhorst (DEU) and Sang-Wuk Song (KOR) 9th CSI3* 2006 - Grand Prix 2006 Vejer de la Frontera (ESP) (1.50m) ;

CLINTUS ( Holst, 2000, grey gelding by Carolus H ) Level 1.60m Edouard De Rothschild (ISR) and Marco Kutscher (DEU) 5th CSI5* 2010 - Grand Prix (Global Champions Tour) 2010 Valencia (ESP) (1.60m) ; 2nd CSI4* 2009 Frankfurt (GER) (1.50m) ; 5th CSI4* 2009 Frankfurt (GER) (1.50m) ;

Synfonie II ( Symphonie ) ( Holst, 2002, grey mare by Carolus I )

Cobalt de la Vie ( Holst, 2010, grey stallion by Caretino ) Level 1.40m Steve Lefevre (BEL)

Féline de la Vie ( sBs, 2011, grey mare by Daydream PP ) Level 1.35m Elvira Runova (RUS)

CLINTON 3 ( Holst, 2004, bay gelding by Carolus I ) Level 1.50m Martine Mariero Moe (NOR) and Merete Røed (NOR)

Caspa 7 ( Holst, 2005, grey gelding by Carolus I ) Level 1.50m Tasha Visokay (USA) and Dirk Ahlmann (DEU)
3rd dam:
Lorettchen ( Loretta 28 ) ( Holst, 1974, bay mare by Royal Wash xx )
Waage I ( Holst, 1984, black brown mare by Calypso II ) : see above

Zarina IV ( Holst, 1985, black brown mare by Calypso II )

Linus 99 ( Holst, 1995, dark bay gelding by Liostro ) Level 1.60m Lotta Sjöberg (SWE)

Marlone ( Holst, 1997, bay mare by Liatos ) Level 1.40m Dirk Ahlmann (DEU)

Uleika I ( Holst, 2004, bay mare by Carolus I ) dam of Cantulos ( Holst, 2010, black brown stallion by Cantoblanco ) Approved for: Holst Level 1.35m ,

D-Ricarda ( Holst, 1989, bay mare by Rocadero )

Lorettchen ( Holst, 1996, grey mare by Bachus Z ) dam of Chaya 10 ( Holst, 2003, grey mare by Quantum ) Level 1.35m ,

Offbeat ( Holst, 1999, bay mare by Contender ) Level 1.40m Sabrina Lichtnegger (AUT)

Dotatus ( Holst, 2000, dark bay stallion by Donnerhall ) IDR Kathleen Keller (DEU)

Dallas 45 ( Holst, 2002, black brown stallion by Dream of Glory ) IDR Leoni Liebetrau (DEU)

Elvita ( Holst, 1990, dark brown mare by Liostro )

India IV ( Holst, 1994, dark bay mare by Riverman ) dam of Chinari ( Holst, 2007, dark brown stallion by Cassini II ) Approved for: Holst, BAD-WÜ ,

Monik ( Holst, 1997, dark brown mare by Contender ) dam of Cliostro ( Holst, 2003, dark chestnut stallion by Clinton I ) Approved for: Holst, SA, BA , dam of Latino GM ( Holst, 2004, bay stallion by Loran ) Level 1.45m , dam of QUAC ( Holst, 2005, bay gelding by Quarterback )Level 1.50m ,

Crazy Lion ( Holst, 1992, bay gelding by Contender ) Level 1.45m François Thiry (LUX)

Ipanema 7 ( Holst, 1994, grey mare by Carolus I ) Level 1.55m Harm Sievers (DEU) 8th CSI3* 2006 Neumünster (GER) (1.55m) ;

Can Do ( Holst, 2011, grey stallion by Casall ASK ) Level 1.25m Liette Thiry (LUX) and Linda Thiry (LUX)

Orchidee VI ( Holst, 1999, dark brown mare by Alcatraz )

Casillas 3 ( Holst, 2004, bay gelding by Casall ASK ) Level 1.45m Mia Sannes (NOR) and Sofie Rød (NOR) 3rd - 2018 Sandnes (NOR) - Nat. (1.45m) ; 2nd - 2017 Bergen (NOR) - Nat. (1.40m) ;

CASHGIRL 5 ( Violetta III ) ( Holst, 2005, dark brown mare by Casall ASK ) Level 1.50m Alexandra Cherubini (USA) and Cameron Hanley (IRL) 1st CSI2* 2015 Damme-Neuenwalde (GER) (1.45m) ;
Dam:
Millfield Tina
A very beautiful, tall bay mare with super paces and a lovely laid back temperament with all the attributes of a modern type top class show jumper.

Tina has had a super, premium Oldenburg colt by Verdi born in June 2009 called Millfield Verve who was sold to France and started a promising career he is now back in the UK competing at 1.35 She started her competitive career in style being the joint winner at Addington of the 4 year old final and qualifying for the final at Scope and in 2010. In 2011 she qualified for the Newcomers second rounds and again was a winner of the 5 year old consolation class at Addington and qualified for the 5 year old finals at Scope finishing with a fence down in the jump off.Whilst on rest for an injury we flushed an embryo for ET but to find out later she was also carring a foal. We were so impressed with the foals we decided to continue with her as a broodmare.

She had 2 outstanding colt foals, one via ET in Mar 2013 by the super stallion Cooper van de Heffinck, Millfield Counterfeit and Millfield Counterpart. Counterfeit is an AES licensed stallion and is succesfully competing in age classes with Simon Buckley



Select a video: