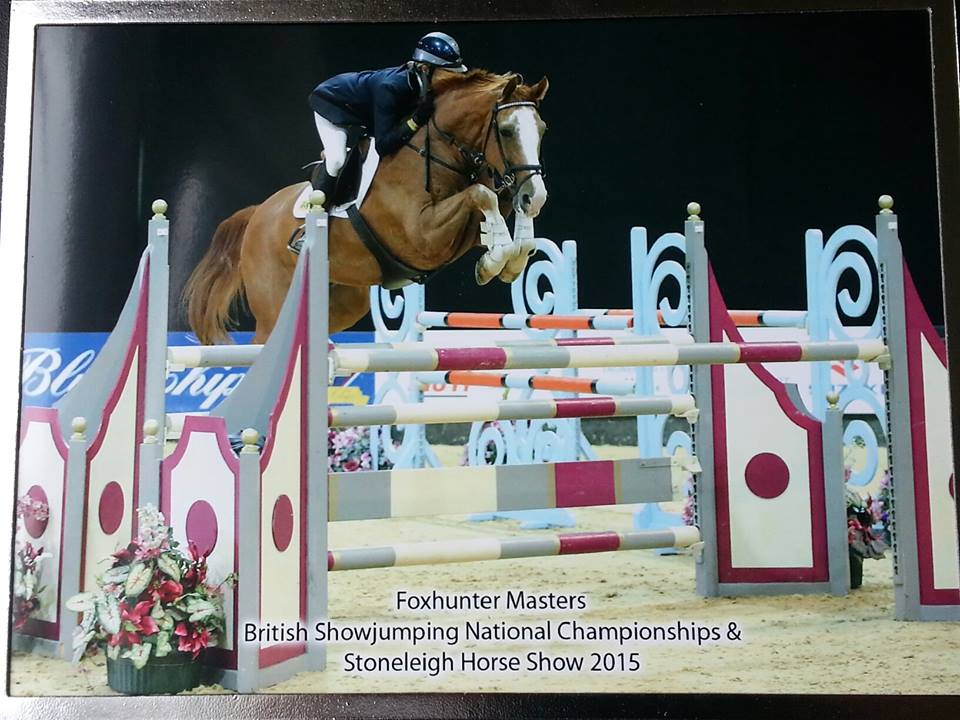 Millfield Longsocks
Millfield Long Socks is the double of his father, Lord Luis and already has his superb attitude to life. He has proved level and easy to deal with when accompanying his father to stallion parades taking it all in his stride. He has his mothers outstanding paces and already shows an amazing loose jump. Being from an outstanding mare and a superb show jumping pedigree Socks is certain to be a top quality competition horse who has that little bit extra.

He was awarded 1st premium at the BEF Futurity scheme in the dressage section and also in the show jumping section as well as becoming champion.


SOLD
Sire:
SIRE:- Lord Luis 2003 16.2 hh 168cm (see Stallions)
Luis was imported from Germany as a foal. He has been successfully shown in hand in sports horse classes and was presented for grading with the AES in Nov 2005 where he was licensed. He has a wonderful temperament, fantastic paces and a huge scopey jump showing a classic technique. Luis sire Laptop was placed first at his stallion performance test by some considerable lead gaining a score of the perfect 10 for his excellent canter. He was 2nd in his group for dressage with a score 139.88 points and 3rd in his group for jumping with a score of 130.75 points. He has already produced 6 approved sons and has several horses competing at the highest level in show jumping and dressage. Luis full sister was awarded State Premium status and his grand dam St Pr Atlanta gained 9?s in her jumping at her mare performance test.
Sire:Lord Luis Hann Laptop Hann Holst Loredo Lord St Pr Retina Hptsb Candy Hann Calypso 11 Hptsb Geri Hptsb EscadaHann Escudo 11 Hann Espri St Pr Athene St Pr Atlanta Hann Almeo Hptsb Deinah Dam:St Prx Fair Play Westf Ferragamo Rhld Freigraf Hess Furioso 11 SF StPrSt Wolke Hess StPrSt Elona Rhld Ehrensold Hann StPrSt Illusion Rhld Dame Rouge West Damenstolz Hann Damhirsch Hann Cyklame Hann StPrSt First Lady West Fruhlingstraum 11 West StPrSt Dorle West ?
Dam:
DAM:- Fair Play 1996 State Premuim Westfalen 16.3hh 170cm
Fair Play is a State Premium mare who is also trained up to medium level dressage. At her mare performance test she was placed 1st out of 82 mares and received 9?s for her walk andtrot, 9.5?s for her canter and loose jump and 8.5 for rideability. She was also placed 1st at the Rhineland mare show and 4th in the European mare show in Brussels. She has already produced a stallion son by Munchhausen. She has been on a dressageyard /stud in Germanyafter being purchased for a large sum of money as a 3 year old. She has competed with us for a winter season show jumping where she competed at Foxhunter level. Her sire Ferragamo is by Freigraf who is by the legendary Furioso 11. Freigraf was campaigned very successfully by the Paul Schockemohle stables becoming the national vice-champion show jumper in 1992 at Verden. Ferragamo was vice-champion at his approval and runner up at his performance test gaining a score of 10 for rideability. He then went on to produce 12 approved sons from his first batches of foals and his son Falcone was sold for a record 280,000 DM at the Elite auction. Fair Play?s dam is by Damenstolz who was a highly modern and very handsome stallion who goes back to Duellant via Duft 1 who revolutionized the dressage sport.