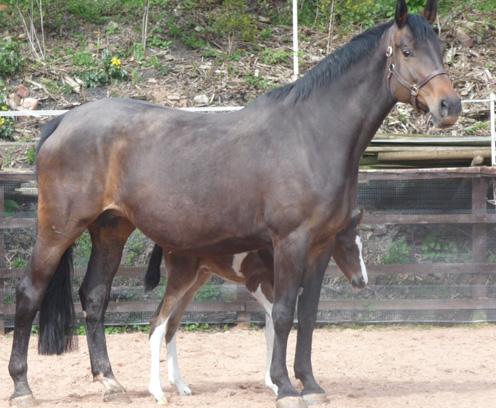 Sawara
An attractive brown mare who has been a broodmare due to an injury. She has a top class sports pedigree being from the stamm 4847 which has produced the stallions Lican, No Limit, Lancer 1, 11 & 111 and L\'Esprit.
She has had a premium colt foal in Germany by the TB stallion Be My Happy Guest which has been retained by the Holsteiner Verband as a stallion prospect.
She then had a superb filly foal by the Holsteiner champion Diarado born in April 2009 called Millfield Diandra who was awarded a premium by the Oldenburg Verband and scored a very high first premium at the Futurity.
She was leased out for her 2010 foal to the owners of Sempers Spirit and has had a stunning filly foal for them in April 2010. She is offered for sale purely due to overstocking and is scanned in foal to Balou du Rouet due 2 June 2011.
£4,250 ono
Sire:
Chambertin 16.3 hh 171cm 1998
Chambertin made a successful debut in breeding in Holstein. Since 2004, he has been covering in Baden- Werttemberg, where he advanced to become one of the most sought-after German stallions. Following his successful stallion performance test in Neustadt/Dosse, he won a sequence of novice (A), elementary (L) and intermediate (M) level showjumper tests. In 1998 and 1999 he was the winner of the qualification round for the finals of the German Federal Championship in Warendorf with his rider Jarg Naeve. He moreover became the 1999 Holstein state champion. Chambertin, who also stems from the successful Holstein bloodline 18 a 2, has presented five approved sons so far, including the Federal Championship finalist Chalan, Chacco Blue and Cobos.
Dam:
Galactic 11 Holst Stamm 4847 1992
Caletto I was approved in Neumanster in 1977 and passed his performance test at Medingen the following year. He was "tall, important sire with the smooth topline of a modern riding horse. Good trot, absolutely marvelous canter and extraordinary jumping ability with fantastic form over fences."

Caletto\'s dam - Deka produced eleven living foals before she died at the age of 23 - the eleventh being Caletto III. Deka is by Consul, the best son of the influential Thoroughbred, Cottage Son.
Posted to the Woehrden stallion station, Caletto I had almost completed his breeding duties for his third season, when he was kicked by a mare in the genitals, and despite the best of veterinary attention remained infertile for months afterwards. The Holsteiner Verband sold him to the showjumping rider, Michael Reping and he went on to earn DM101,693, as well as a team bronze at the 1983 European Championships. In 1985, Caletto I was the most successful German Nation\'s Cup horse.But then his little brother Caletto II was killed in an accident (see below). The distraught Holstein breeding authorities contacted Michael Reping and persuaded him to test Caletto I once again - after a break of five years, the stallion was now producing fertile semen! Caletto I resumed his successful breeding career in 1986 and in the 1991-2000 WBFSH standings was represented by 12 progeny who had taken him into 28th place - finishing 5th in the 1999/2000 standings. His most successful jumper has been Calvaro Z. He has also been a successful sire of stallions, most notably Camaro, Cantus and Cartusch, Cambridge and Cantus