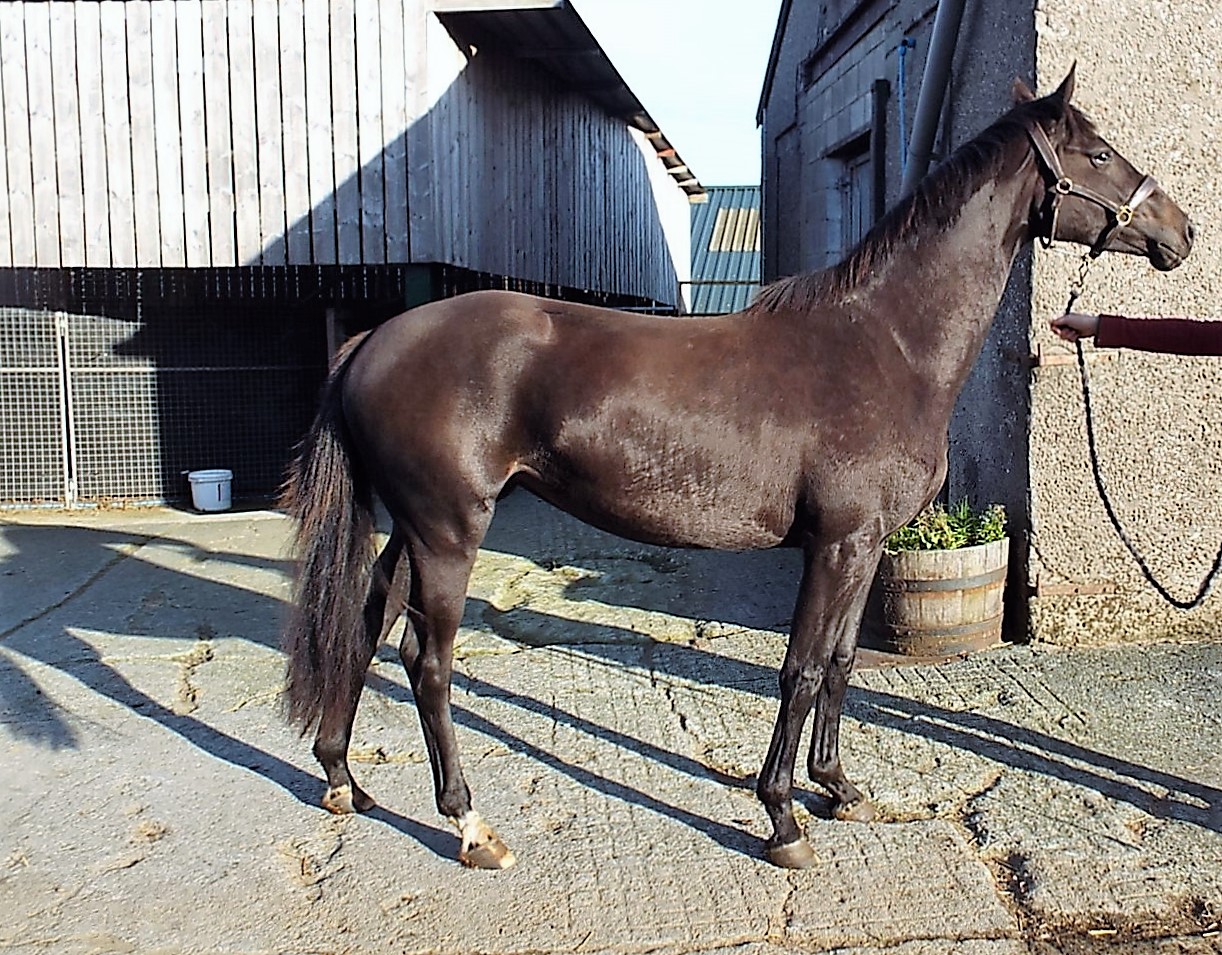 Millfield Bali
Bali is a very elegant and modern filly with a lot of blood. She has inherited her mother\\\'s lovely temperament and is very easy to handle.

She has super paces and has a great future ahead as a sports horse and breeding mare being from a proven dam.

Sire:
SIRE:- Balou De Rouet 16.3 hh 171cm 1999
Balou gained top marks of 9.5 and 10 for his jumping at his stallion performance test and then went on win the final qualification of the German Young Horse Championships with the top score of 9.2?

His sire Baloubet du Rouet was the individual gold medalist at the 2004 Olympics in Athens and is three times world cup champion a row.

On the dams side we find the increasingly popular Contender son Continue
Dam:
Havanna is a lovely looking and very elegant modern sportshorse with plenty of blood. She has above average paces and a fabulous temperament. She has competed at S level in Germany at 1.50- 1.60 with winnings of over 11,000 euros at that level. She was placed at the European and German Championships and has also successfully competed up to medium level dressage.

Her sire Loutano completed the Stallion Performance Test in 1988 in Adelheidsdorf, placing 3rd out of 72 with a score of 136.63. Loutano received scores of 134.79 (4) for his incredible rideabilty and 122.31 (10) for jumping.

Loutano is the son and at the same time great-grand son to the incredible hereditary transmitter of showjumping, Landgraf. The combination with Calypso I completes the image of a top modern sire with versatile heredity.

Loutano was the Reserve Champion of the 1990 Holsteiner approvals because of his type and movement. Following many wins in conformation classes, Loutano competed successfully in the Federal German Riding Horse Championships in Munich 1991 where he placed 3rd in the final for three year olds.

Loutano\\\'s predisposition for dressage enabled him to attain continued success within the discipline. Margit OttoCrepin has had international dressage success with Loutano at the Grand Prix Level. In 1998 the pair placed 4th place at the Grand Prix Special in Beck located in the Netherlands.

In the 2000 FN breeding value rating Loutano was listed among the top 20 of showjumpers in his age class. Loutano has so far produced 17 approved sons including Lorentin 1 & 11, Landtanzer, Lorado and Lothringer.

Landgraf I has been labeled by many \\\'Stallion of the Century\\\' , His genes are securely anchored in the breed of the modern sporthorse. His offspring have won just under seven million dollars mainly in showjumping and is still growing.
Nearly 60 colts by Landgraf I have been licenced for the Holsteiner stud book, like the champion of 1991, Linaro, and the dressage talent, Loutano.

Some of his sons have already achieved top positions as performance sires, for example, Letus II, a jumping sire, and the versatile Landadel.

Landgraf had a very good temperament which he passed on dominantly, together with excellent movement. Landgraf is far and away the most important jumper sire in the world!\"

Calypso I had a smooth, harmonious topline with a well carried neck and lots of expression. Beautiful shoulder and wither. Strong bone, correct legs and feet with high set on hocks. Well defined joints. Marvelous mover.

Calypso I was an incredibly important sire to the Holsteiner breed and consistently passed on his best qualities to all of his offspring. Offspring have elegant Calypso type and are endowed with fabulous basic gaits with fantastic trot and all show extraordinary jumping ability. Offspring are correct and elastic with scope as dressage horses and jumpers.

Amelie is by Patricius xx. This thoroughbred, bred at the Quellenhof stud raced on the flat in 36 starts and scored a combined $ 100,000 - including the German Derby. In 1978, at six years old he was graded Trakehner and covered for year at B. Langmann in Heidelberg. From 1980 to 1985 he was covering in Holstein but died in an accident at Maas J. Hell. In six years of breeding, he left two approved Trakehner sons and also for Holstein one approved son.

Patricius was a dark brown stallion, who was characterised by his serene temperament, correct conformation and great willingness. With a Height of 171 cm and 21 cm cannon bone he was not the most graceful representatives of his race. What distinguished him, was his rideability and high-quality basic gaits, because of which he was trained in dressage and shown in freestyles at M-level.