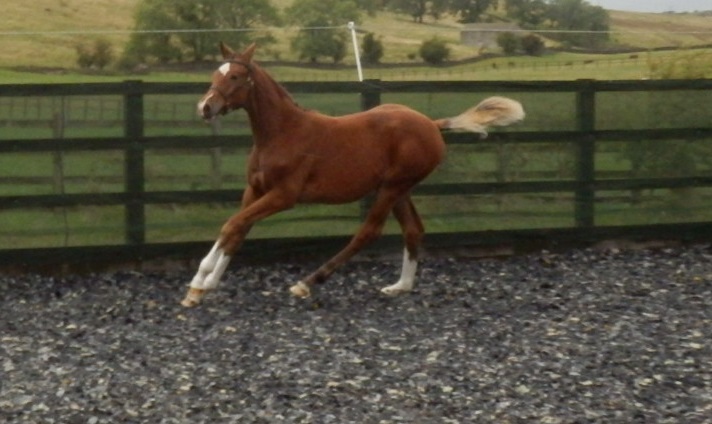 Millfield Lyric
A lovely big filly with above average movement and a very convincing style over a fence.
Top competition prospect and only for sale to the right home
SOLD
Sire:
The first Reserve Champion of the 2010 Holsteiner licensing in Neumünster. Lyjanero is a capital Holsteiner in an elegant format with phenomenal gaits, and in spite of his good size and large frame, he has a harmonious body with a brilliant step-off and is a revelation at the jump. His balance and intelligence made a good impression when he was presented for the first time under saddle. When commenting on the individual stallions, Holstein\\\\\\\\\\\\\\'s Breeding Director, Dr. Thomas Nissen, showed his enthusiasm, saying \\\\\\"It is only seldom that we have a stallion here who jumped with so much vision, calm and ability!\\\\\\"

After being stationed in eastern Europe for many years, his sire Landos was ordered back to Holstein where he passed on his versatile traits with an exceptionally high \\\\\\"quota\\\\\\" proven by such highly convincing examples as the Grand Prix dressage horse, The Lion King B ridden by Rudolf Zeilinger and also Ellen Bontje (NL), as well as the international show jumper Magic Bengtsson ridden by Peder Fredericson (SWE) who took fourth place individually at the Olympic Games in Athens and a silver medal on the team. The attempt to blow new life into the extremely performance strong Lord line through Landos was obviously effective and produced the licensed stallions Lordanos, Lantino, and now Lyjanero. The dam\\\\\\\\\\\\\\'s sire, Casall, was successfully ridden by Rolf-Göran Bengtsson in international show jumping competitions, and is also one of the well-established sires in Holstein. The third generation sire Carthago was continuously successful on the Dutch Nations Cup team with Jos Lansink.

Further information:

The well-known Holstein line 18 a 1 produced more than 25 licensed stallions, including Allo Par Bleu (licensed on the basis of his performance in sport; private stallion Rhineland-Pflaz), Ars Vivendi (private stallion Westphalia), Attaché Gold (Vice Bundeschampion 2005, private stallion Oldenburg), Baltimore (private stallion Rhineland-Pfalz), Contango de Laubry (BEL), Logarithmus (State Stud Dillenburg), the esteemed Lucarlo (private stallion Hesse, Thuringia), Quamiro (2006 WC participant; private stallion Bavaria), the international multi-winner Vornholzer Romanow (private stallion Westphalia, BEL, Hesse), Romeo (Holstein Verband) and Untouchable (NL) as well as the internationally successful show jumper, Roofs ridden by Rolf-Göran Bengtsson.

Dam:
Fair Play is a State Premium mare who is also trained up to medium level dressage. At her mare performance test she was placed 1st out of 82 mares and received 9\\\\\\\\\\\\\\'s for her walk and trot, 9.5\\\\\\\\\\\\\\'s for her canter and loose jump and 8.5 for rideability.

She was also placed 1st at the Rhineland mare show and 4th in the European mare show in Brussels. She has already produced a stallion son by Munchhausen. She has been on a dressage yard /stud in Germany after being purchased for a large sum of money as a 3 year old. She was imported in 2005 and put back into work and has been competing at show jumping, up to Foxhunter level. She has produced a very flashy colt born 22.3.2007 called Millfield Long Socks by our own stallion Lord Luis. He is now successfully competing at 1.30.

Ferragamo is by Freigraf who is by the legendary Furioso 11. Freigraf was campaigned very successfully by the Paul Schockemohle stables becoming the national vice-champion show jumper in 1992 at Verden. Ferragamo\\\\\\\\\\\\\\'s dam Elona competed at eventing with outstanding success. Ferragamo was vice-champion at his approval and runner up at his performance test gaining a score of 10 for rideability. He then went on to produce 12 approved sons from his first batches of foals and his son Falcone was sold for a record 280,000 DM at the Elite auction.
Fair Play\\\\\\\\\\\\\\'s dam is by Damenstolz who was a highly modern and very handsome stallion who goes back to Duellant via Duft 1 who revolutionized the dressage sport. Damhirsch who was trained up to Grand Prix level also had a fruitful siring career in Westfalia for a long time. Her grand dam was a State Premium mare by Fruhlingstraum 11 who was an approvals winner and procreator of dressage horses and show jumpers of the finest quality and produced many approved stallions and numerous performance horses, the most famous of all being Fire 2, the 1982 World Championship show jumper. First Lady also produced the Westfalen stallion show jumping stallion Polytraum and also Remondo, Paulaner and then the successful show jumper Panther 106.