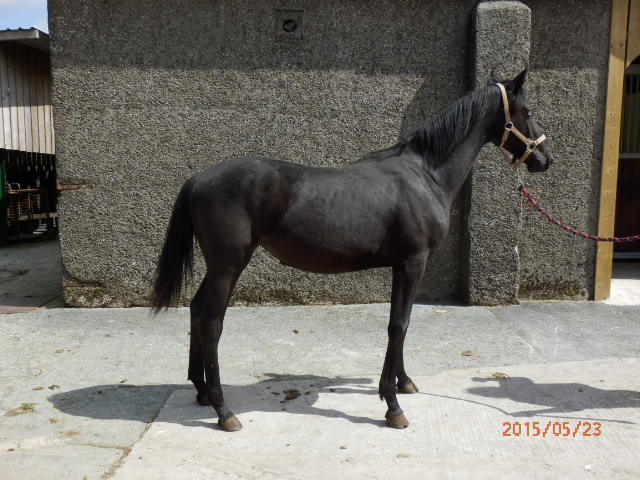 Millfield Valentina
A very modern filly with excellent conformation By HFS Valentino (Skara Glen\\'s Dolphin). She has very good paces and is very athletic. From a proven dam and a sire that is now very successful in the USA.
Sire:
Sire Heartbreaker who is by the world famous Nimmerdor (the KWPN stallion of the 20th century).Heartbreaker\\\\\\\\\\\\\\\\\\\\\\\\\\\\\\'s International successes included the best stallion title in Zwolle, the Champion of Dortmund. In 2000 he won the leading Show jumper of the year at HOYS (Wembley). He finished 4th in the prestigious Grand Prix of Aachen and competed in the Nations cup final. In Belgium and Holland, Heartbreaker was the leading stallion in the BWP and KWPN breeding rankings for jumping for 3 years. Offspring competing at top level include Orlando (Dirk Demeersman),Toulon (Hubert Bourdy), Sky Breaker and Romanov.

The Dam\\'s Sire was the famous Concorde, a prolific sire of international sport horses, many having proved themselves at the very top Grand prix level (1.60M).Concorde was by Voltaire who in 1996 was the No2 in the World Breeding Rankings for Show jumping sires. His dam was not competed as she was injured as a 4yr old, the G.dam Chinatown jumped internationally.

In 2008, as a 3yr old, Valentino was licensed by the AES. The Highest possible grade for his age. He is a super modern type with excellent movement and ride ability.

In 2009 he was successful in the 4year old section of the British Young Horse Championship at Addington.

In 2010 he competed at CSI Vilamoura for 4 weeks without faulting, winning the Final. He has completed his 4 double clears in Newcomers First Rounds. He was Runner up in the Scope 5yr old championship.

In 2011 he was the National 6 year old Champion at the SCOPE festival, the winner of the 6 year old championship at arena UK and 3rd at HOYS in the National 6 year old Championship

In 2012 he continued to be one of the most consistant 7 year olds in the country and was then sold to the USA where he now competes under the name Skara Glen\\\\\\\\\\\\\\'s Dolphin
Dam:
Holstein Stamm 671 Cartouche is a lovely looking mare with an excellent temperament and by the outstanding sire Carthago Z. She has successfully competed in Switzerland up to 1.50m level in show jumping before retiring sound as a broodmare.

She has already produced a premium foal in Germany by Quo Vados and is from the stamm 671 which has produced the stallions Carlsberg, B by Contender and Lucky Dream, by Lucky Lionel.

Her sire, Carthargo Z competed at the Olympic Games in 1996 and 2000 with Jos Lansik and was also a winner of numerous grand prix and nations cup. He is one of the most successful ever Capitol 1 sons and now has several approved sons himself from a very short breeding period due to being withdrawn in 2000 due to infertility. For this reason and the successes of his progeny make Carthargo blood highly sought after.
Cartouche\\'s dam is by Chamisso who was approved in Holstein and was then sold to Hungary as a 5 year old but left some very good mares in his short breeding career such as the dam of Eurocommerce Acapulco. Chamisso is by Cantares who has produced numerous international show jumpers and state premium mares.The dam line also has the famous Landgraf and the added thoroughbred blood of Marlon.
Select a video: