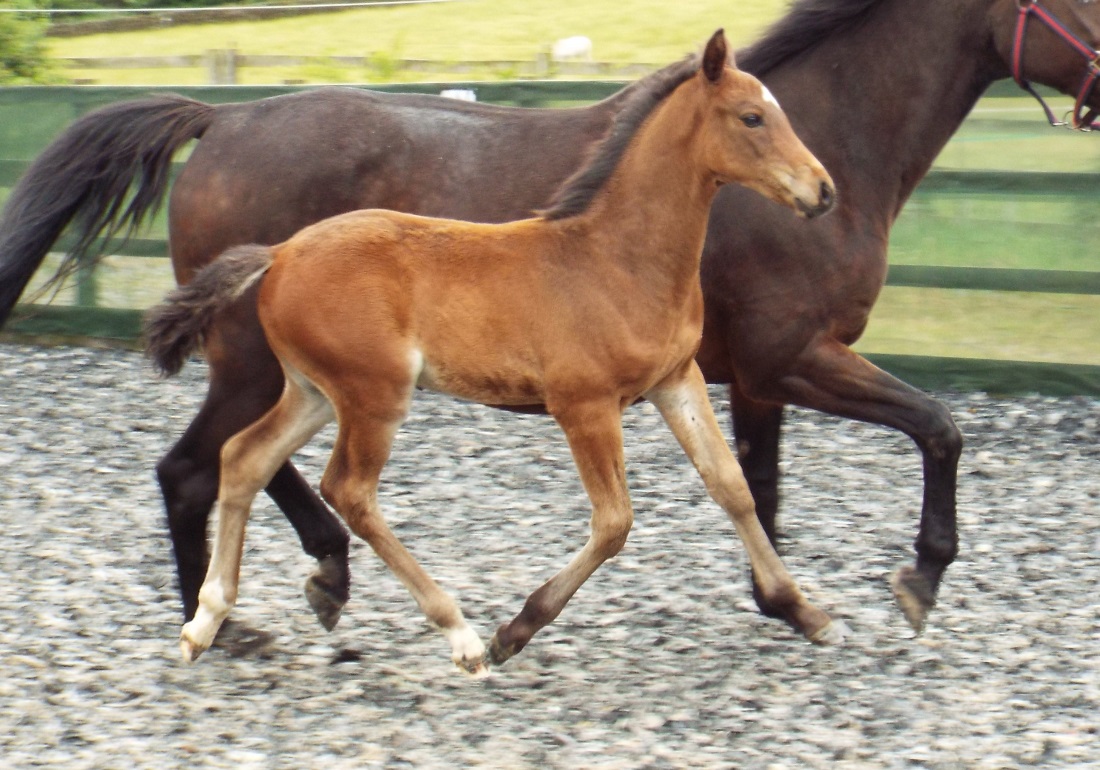 Millfield Cristago -SOLD
A lovely looking colt with way above average movement for a show jumper and so will make a top class sports horse in any discipline.
He was awarded a Premium by the Oldenburg due to his outstanding movement and promise as a ports horse.
Sire:
CRISTALLO 1


Sire Cornet Obolensky began his career in 2001 as acclaimed show jumper and 2nd reserve champion of the North Rhine Westphalian Approvals in Münster-Handorf. Since then he has celebrated many Grand Prix and Nation Cup victories with his rider Marco Kutscher. He was placed amongst the top ranks in the World Cup qualifiers in Bordeaux (FRA), Helsinki (FIN), Oslo (NOR) and Lyon (FRA), as well as in the Global Champions Tour in Rio de Janeiro (BRA), the Grand Prix in Dortmund and Hamburg.

These results secured a team place for the European Championship in Madrid 2011, where he played a decisive role in clinching team gold. Cornet Obolensky has set a standard above the rest not just in the top sport but also in the breeding world. He has sired around fifty approved stallions, amongst them the approval champions Cosinhus and Coronas and Cristallo II, National Young Horse Champion Cornet's Stern and the overall Premium Champion of Oldenburg, Cornet's Prinz.
Cristallo I's dam Cassie was placed up to M level (1,40) under the name Cascavella. She also produced Cristallo I's full-brother Cristallo II, the best show jumping stallion of the North Rhine Westphalian Approvals in Münster-Handorf.

The dam's sire Cassini I, top international show jumper under Franke Sloothaak is considered one of the world's producers of show jumpers. The great dam Profilda, a top level show jumper under the show name Papaya produced Cosima (by Calido I) who jumped up to 1.35m. Profilda is a full-sister to the approved Pocalino (by Polydor) internationally successful with Jens Dummeyer; and also to Paganini who jumped up to 1.35m, and half-sister to the stud book premium mare Leticia (by Lancer III) and Celestine (by Cornet Obolensky).

In November 2005 Cristallo I made his debut at the Approvals in Munster-Handorf. This athlete of a horse with dynamic movements and an outstanding jumping ability clearly impressed both breeders and experts.
This Cornet Obolensky son won his 30-day-performance-test in 2006, fulfilling the expectations from the previous year and demonstrating outstanding talent.

In 2007 Cristallo I and his rider Ingrid Klimke were Vice-Champion with a score of 8.4 in the "Optimum", a traditional competition in North-Rhine-Westphalia for four year old horses. In the same year, under Eva Deimel, he won a 1.0m jumping competition with a score of 8.8 demonstrating his qualities for both dressage and show jumping.

In 2008 Cristallo I won his first ever National Young Horse Championship qualifier with a score of 8.8 under Henrik von Eckermann, his rider still today. Four weeks later he topped this mark achieving 9.0 at the Westfalian Championships; he was awarded a distinction as the top 5 year old. After eight consecutive victories at young horse shows, Cristallo I finished second in one of the final competitions at the National Young Horse Championships with 8.7. He was a celebrated finalist.

At the beginning of the season in 2009 Cristallo I qualified for the finals again. He jumped clear in all four rounds at the finals, finishing 2nd in two of the qualifiers. On the final day he finished eighth overall. In 2010 Cristallo I began his international debut where he jumped numerous impressive clears, with placings in Rulle and Hachenburg.

Dam:
Holstein Stamm 671 Cartouche is a lovely looking mare with an excellent temperament and by the outstanding sire Carthago Z. She has successfully competed in Switzerland up to 1.50m level in show jumping before retiring sound as a broodmare.

She has already produced a premium foal in Germany by Quo Vados and is from the stamm 671 which has produced the stallions Carlsberg, B by Contender and Lucky Dream, by Lucky Lionel.

Her sire, Carthargo Z competed at the Olympic Games in 1996 and 2000 with Jos Lansik and was also a winner of numerous grand prix and nations cup. He is one of the most successful ever Capitol 1 sons and now has several approved sons himself from a very short breeding period due to being withdrawn in 2000 due to infertility. For this reason and the successes of his progeny make Carthargo blood highly sought after.
Cartouche\'s dam is by Chamisso who was approved in Holstein and was then sold to Hungary as a 5 year old but left some very good mares in his short breeding career such as the dam of Eurocommerce Acapulco. Chamisso is by Cantares who has produced numerous international show jumpers and state premium mares.The dam line also has the famous Landgraf and the added thoroughbred blood of Marlon.

Select a video: