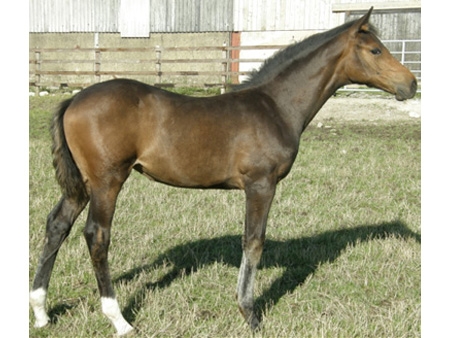 Millfield Diandra
A very attractive brown filly who has an outstanding pedigree for sport and breeding. She has a top class sports pedigree being from the stamm 4847 which has produced the stallions Lican, No Limit, Lancer 1, 11 & 111 and L\\'Esprit.

She was awarded a very high first premium with a score of 8.75 at the BEF Futurity and was Champion show jumping foal. She will be retained by the stud. She has won the yearling class at the 2010 SHGB Spring Breeders show at Myerscough. This filly is of interest to breeders and for anyone wanting to produce a top class sports horse. POA

SIRE:- Diarado 16.2hh 169 cm Holst Stamm 318 d2?? 2005
Diarado was the Holstein Supreme Champion in 2007. Brilliant in his type, superior in his appearance and extremely precious bloodlines: Diarado enchanted the experts on the occasion of the Holstein stallion approvals. A winning stallion from top to toe, combined with fantastic movements and a jet black coat. His abilities seem endless - effortless, quick and superior with an ideal bascule. His score at the 70 day test was the highest by far with a score of 150.57 and he received a 9.5 for rideability and 9.73 for jumping. He combines the big names of the Holstein breeding through his dam which is by the outstanding sire Corrado out of a Contender-Lord-Ramiro dam. Amongst the highly successful descendants of the Holstein lineage 318 d2 are the international show jumpers Cabrio/Toni Hassmann, Morales/Dr. Michael Rüping and numerous licensed stallions such as Corofino I and II, Coriano, Crawford, Chello I and II as well as the licensing-champion Camiros. His sire Diamant de Semilly ridden by Eric Levallois was member of the French gold winning team at the world championships in Jerez and won the team silver medal at the European championships the following year. Bred for performance, he has been consistently named \\"best sire of young horses\\" at the French championships in Fontaineblau . He can look upon an entire armada of international top-class horses and by now belongs to the most sought after sires in France. Grandsire Le Tot de Semilly was also internationally successful and is considered to be one of the best show jumping producers in France.

DAM:- Sawara 17 hh 173 cm Holst Stamm 4847 1992 (see broodmares)
Chambertin made a successful debut in breeding in Holstein. Since 2004, he has been covering in Baden- Württemberg, where he advanced to become one of the most sought-after German stallions. Following his successful stallion performance test in Neustadt/Dosse, he won a sequence of novice (A), elementary (L) and intermediate (M) level showjumper tests. In 1998 and 1999 he was the winner of the qualification round for the finals of the German Federal Championship in Warendorf with his rider Jörg Naeve. He moreover became the 1999 Holstein state champion. Chambertin, who also stems from the successful Holstein bloodline 18 a 2, has presented five approved sons so far, including the Federal Championship finalist Chalan, Chacco Blue and Cobos. Caletto I was approved in Neumünster in 1977 and passed his performance test at Medingen the following year. He was \\"tall, important sire with the smooth topline of a modern riding horse. Good trot, absolutely marvelous canter and extraordinary jumping ability with fantastic form over fences.\\" Caletto I had almost completed his breeding duties for his third season, when he was kicked by a mare in the genitals, and despite the best of veterinary attention remained infertile for months afterwards. The Holsteiner Verband sold him to the showjumping rider, Michael Rüping and he went on to earn DM 101,693, as well as a team bronze at the 1983 European Championships. In 1985, Caletto I was the most successful German Nation\\'s Cup horse.But then his little brother Caletto II was killed in an accident. The distraught Holstein breeding authorities contacted Michael Rüping and persuaded him to test Caletto I once again - after a break of five years, the stallion was now producing fertile semen! Caletto I resumed his successful breeding career in 1986 and in the 1991-2000 WBFSH standings was represented by 12 progeny who had taken him into 28th place - finishing 5th in the 1999/2000 standings. His most successful jumper has been Calvaro Z also Camaro, Cambridge and Cantus.
Sire:
Sire:Diarado Holst Diamant de Semilly SF Le Tot de Semilly SF Grand Veneur Venue Du Tot Venise D.Cres SF Elf 111 Miss D. Crest Roxette 1 Holst Corrado 1 Holst Cor de le Bryere Soliel Kimberly Holst Contender Option Dam:Sawara Holst Chambertin Holst Cambridge Holst Caletto 1 St Pr Hilgunde St Pr St Desiree V11 Holst Cor de le Bryere Wilga Galactic 11 Holst Caletto 1 Holst Cor de le Bryere Deka Bianca 111 Holst Landgraf 1 Schicke ?

Dam: