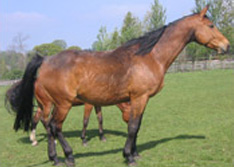 Belle A Balou
Belle-A-Balou had been started in work and was showing great promise when she unfortunately suffered an injury to her pelvis when cast in the stable.
She is a good sized mare with athletic paces and plenty of scope over a fence. She has an outstanding pedigree being line bred to the great Alme Z.

She produced a fabulous bay colt in 2006 by Goldex(formerly Rolex) who was sold to Scotland as a stallion prospect. She has had a lovely filly by Talloc M (Dollar de la Pierre) in 2008 who has been sold to a breeder and has had a beautiful filly foal by the top producing Numero Uno in April 2009 called Millfield Ester who was sold to HK Horses at Wetherby
Sire:
Baloubet De Rouet 1989 17hh 173cm
The world famous Baloubet De Rouet is the best stallion show jumper ever known. He has attained an individual gold medal and won the world cup championships three times. He descends from the legendary jumper stallion Galoubet A (Alme Z) who also produced the stallion Quickstar. The bloodlines go back to the Thoroughbred Rantzau who was the sire of the famous Cor De La Bryere.
Dam:
Lovely Alice 1995
The dam Lovely Alice is by the famous Selle Francais Stallion I Love You who is also by the great Alme Z who has produced so many top horses. Her dam Grantbourne Alice is a BWBs select studbook and bronze medal mare and is by Atlantus who has sired many top class sports horses.