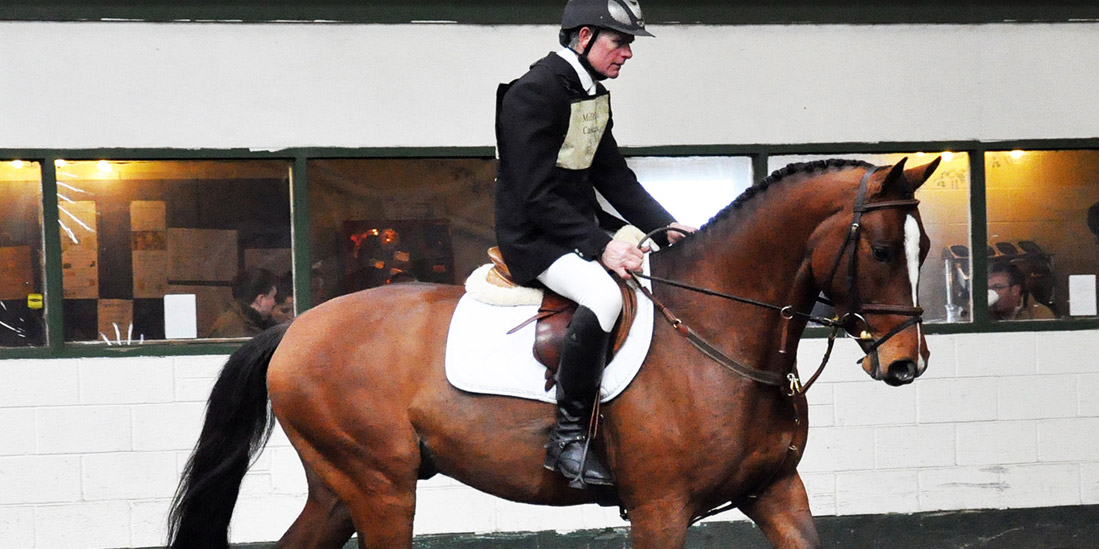 Cocette (Radiant For Joy)
Radiant for J competed in sport prior to breeding when an injury ended her very promising career. She was awarded 10 out of 10 for her free jumping at her mares test for her explosive technique.

She has had a super tall colt by Cassini 1 in 2008 that is now a licensed stallion with the AES called Cassini's Chaplin and a very elegant filly by Corrado in 2009 that was sold to Brazil and is very successful. She also had a stunning colt by Cassini 11 in 2010. She has been scanned in foal to Millfield Cascade and is due in June 2013. A chance to buy a proven broodmare with excellent bloodlines.



Sire:
SIRE:- Cascavelle 1 172cm 1988
Holstein Cascavelle whose sire Cantus, was a monumental grey stallion with an overwhelming predisposition for jumping, a characteristic which he readily passed on to his progeny. He left a number of influential sires such as Come On (international showjumping successes with H.R.H. Haya Bint al Hussein), Calido I, Cyrano, Cassius Clay, Cristobal, Canaletto and Cascavelle. Cascavelles dam Phaedra, ( FN name Colanda) was herself a very successful competition sports horse. Her sire Calando I was German Show jumping champion in 1984, who then jumped internationally, before returning to Holstein in 1990. The grandam Fangelika is by Consul, the valuable son of the thoroughbred Cottage Son xx, who also appears as the dam-sire of the Cantus sire Caletto I. Fangelika is also the foundation mare of the approved stallions Carthago and Lord Calando through her daughter Kerrin (by Mambo), and her granddaughter Perra (by Calando I). Cascavelle proved to be specialised in jumping, tallying scores of 9 and 10 in the show jumping index at his stallion performance test. Cascavelle has presented a considerable number of Federal Championship contestants so far and state premium mares. A successful Federal Championship daughter was sold to the USA for DM. 500,000. Three Cascavelle sons have so far been approved, namely C.I.A., Casco and Carillon. There were three approved stallions at the 2001 Holstein approval that had a Cascavelle dam, including the winner, Lake Bid (who was sold for DM. 470,000). The stamm 990 is responsible for the stallion Canabis Z and the mare Gordana produced Tribonius who competed internationally at eventing with Peter Green (USA).
Sire:CascavelleHolst CantusHolst Caletto 1Holst Cor de la Bryere Deka MonolineHolst Roman USA PhaedraHolst Calando 1Holst Cor de la Bryere Furgund FangelikaHolst Consul Rinde Dam:WedingstedtHolst Caletto 11Holst Cor de la BryereHolst Rantzau xx Quenotte DekaHolst Consul Oekonomie RemscheidHolst FlamingoHolst Fasolt Navarra Gordana?Holst Marengo Censur ?
Dam:
DAM:- Weddingstedt 16.2hh 167cm 1989 Holstein Stamm 990Her dam Weddingstedt is by Caletto 11
Caletto II was a significant stallion, considered to be the perfect Holsteiner performance type. Harmonious and deep bodied, clean correct legs and feet, good walk and trot with an magnificent canter, Caletto II was a very good jumper and showed extraordinary form over fences. He later proved this in the show jumping ring with Herbert Bloeker, where the stallion won many tests for riding horses. ? At a regional show in September 1984, after being proclaimed best in the show, Caletto II was waiting to go into the arena, when he reared up, fell over and regrettably broke his neck at nearly 7 years of age! Just how great a loss the untimely death of Caletto II was , has been shown by the fact that he was ranked 16th in the standings for ten consecutive years, with his two megastar offspring, Operette La Silla and Jewel\'s Classic Touch contributing the bulk of the points. Calletto II\'s son Caretino (see above) jumped internationally with Bo Kristoffersen and later with Ludger Beerbaum. Caletto II was acclaimed Champion of his stallion licensing in 1980 and became regarded as a very important improvement sire. Most of his offpspring were of his type. He had 13 approved sons and 91 approved daughters.