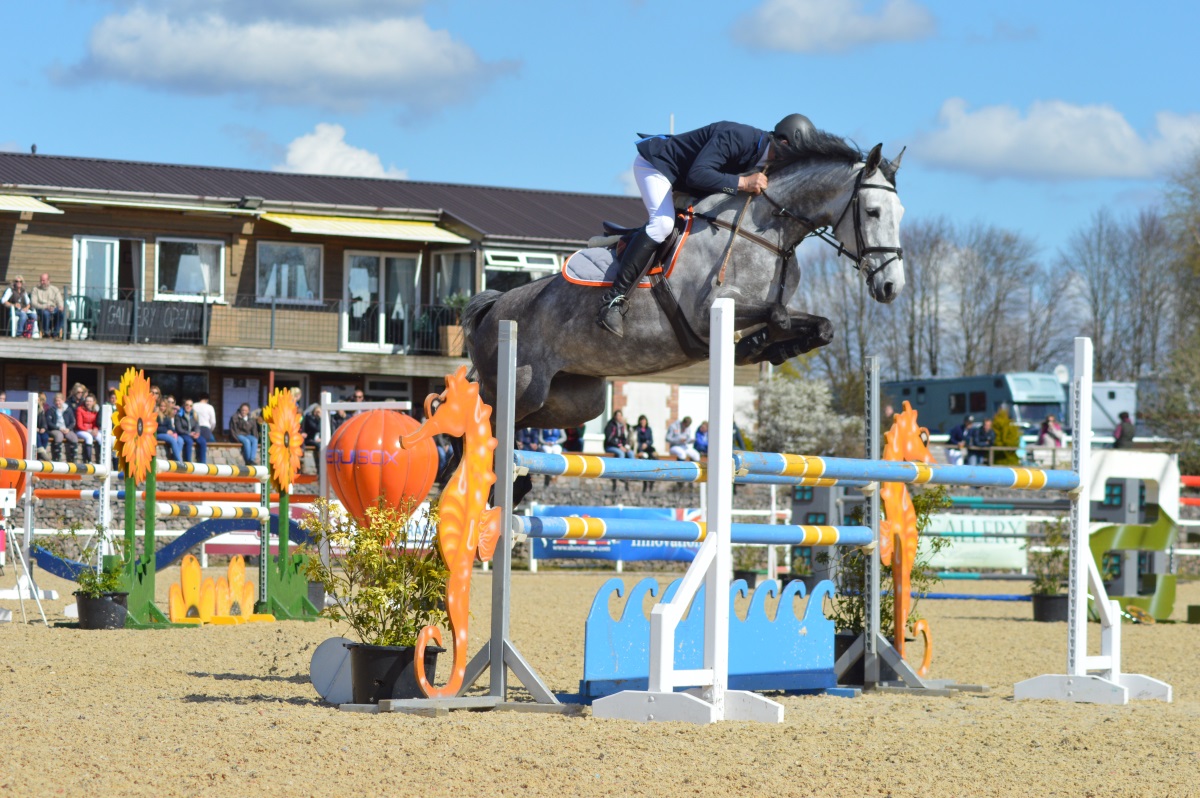 Millfield Giselle

A lovely grey mare with lots presence. She is very athletic with outstanding paces and although she has a fantastic show jumping pedigree she will make a top class competition prospect in any sphere.

She was overall Cahmpion 3 year old jumper and Elite at the BEF futurity in 2014 and also Champion at the UK KWPN gradings and awarded Ster status.

She is backed and proving sensible and very careful.

She has attended a couple of shows inc Northcote Young horse and Bolesworth International and has jumped double clear in British Novice/1.0m.Had a break in the field and competed at the Addington Young Horse Championships where she finished joint winner of the British bred 4 year olds in 2015.
Sh has already jumped 4 double clears at Newcomers one of them being placed in the Blue Chip qualifier. She was 5th at the Welsh Masters in the 5 year olds jumping double clear both days to qualify and triple clear in the final

A serious competition prospect, now ready to go on
SOLD


Sire:
Cicero van Paemel 2000 BWP 16.3hh
Cicero's father Carthago is announced as the world number two jumping stallion for 2010!

Cicero's father Carthago Z is one of the rare super star performance stallions to go on and prove himself equally as important as a breeding stallion. Carthago won the GP in La Baule, Hickstead, Hamburg as well as the Nation Cups in Luxemburg, Aachen and Rotterdam. But he's also known as the father of sport horses like Calippo, Kira III, lady Carthago, Cim Christo, Eurocommerce Napels, Uthago and breeding stallions like Claudio, Colman, Cardino, Codex, Chicago, Cum Laude,.. Cicero's mother Rendez-vous is by Randel Z. Randel Z provides him the proper dose of blood. Randel Z is known to be a supplier of jumping horses as well as dressage horses. Cicero\\\\\\\'s bloodline goes back to Graphit (father of Grannus) and Gotthard, who are at the base of German breeding.

Cicero\\\\\\\'s mother Rendez-vous is also the mother of Umberto van Paemel (by Darco) who competes successfully at level 1m40. Rendez-vous\\\\\\\' sister Quechua is the mother of Uncle Sam (by Darco) who is competing in the USA at level 1m50 with Eric Lamaze and Ashley Fleischhacker, Versace (by Darco) who is approved in Canada and who has won the Canadian championship of 5 year old horses with Yann Candele, Winona who competes successfully at international level 1m40 at the age of 7 and Barbarossa who won has won the circuit of 5 year old horses this year after 10 clear rounds on 10 participations.

2005 At the BWP stallion selection Cicero was one of the most impressing horses. At the circuit of young horses he made 5 clear rounds on 6 participations. At CSI-W Mechelen he finished 6th at the 5 year old stallion division.

2006 At the stallion division of BWP Moorsele Cicero finished 5th [0/0]. At CSI Zwolle he finished 7th at the final of the \\\"young stallion\\\" division [0/0/4]. At CSI*** Lummen he was one of the winners at the 6 year old division

2007; 3rd at the 7 year old stallion division of CSI Hasselt, 9th at the final of young horses (1m45) at CSI Dortmund, 8th young horses CHIO Rotterdam, 7th & 12th young horses CHIO Aachen, 4th 1m45 CSI Birmingham, 10th 1m40 & 13th 1m45 CSI Leeuwarden, 5th 1m40 CSI Luik, 2nd stallion division CSI Mechelen, 5th 1m40 CSI Mechelen, 8th 1m45 CSI Mechelen

2008 1st six bar competition CSI Dublin, 6th 1m45 CSI Dublin, 3rd Grand Prix CSI Neeroeteren, 2nd 1m50 CSI Frankfurt, 7th 1m45 CSI Neeroeteren, 11th & 2x 13th young horses CHIO Aachen, 7th 1m40 CSI Geesteren Twente, 7th 1m40 CSI Brussels

In December 2010 Cicero won the Sires of the World title at Mechelen

Dam:
Ulinda H KWPN Studbook 16 hh 2001 (see broodmares for reference)
Ulinda's sire Salamon is by the Famous International Show jumper Darco. Her Grand dam Zolinda is a Keur, Preferent, Prestatie mare that produced the Stallions Idaho (Nimmerdor) and Dramiro (Ramiro z). Ulinda has exceptionally good paces and a superb temperament being careful and contentious. She had a foal as a 4 year old and has then gone on to have a successful career show jumping up to 1.30/1.35 until being put in foal in 2010 through choice not injury.

Select a video: