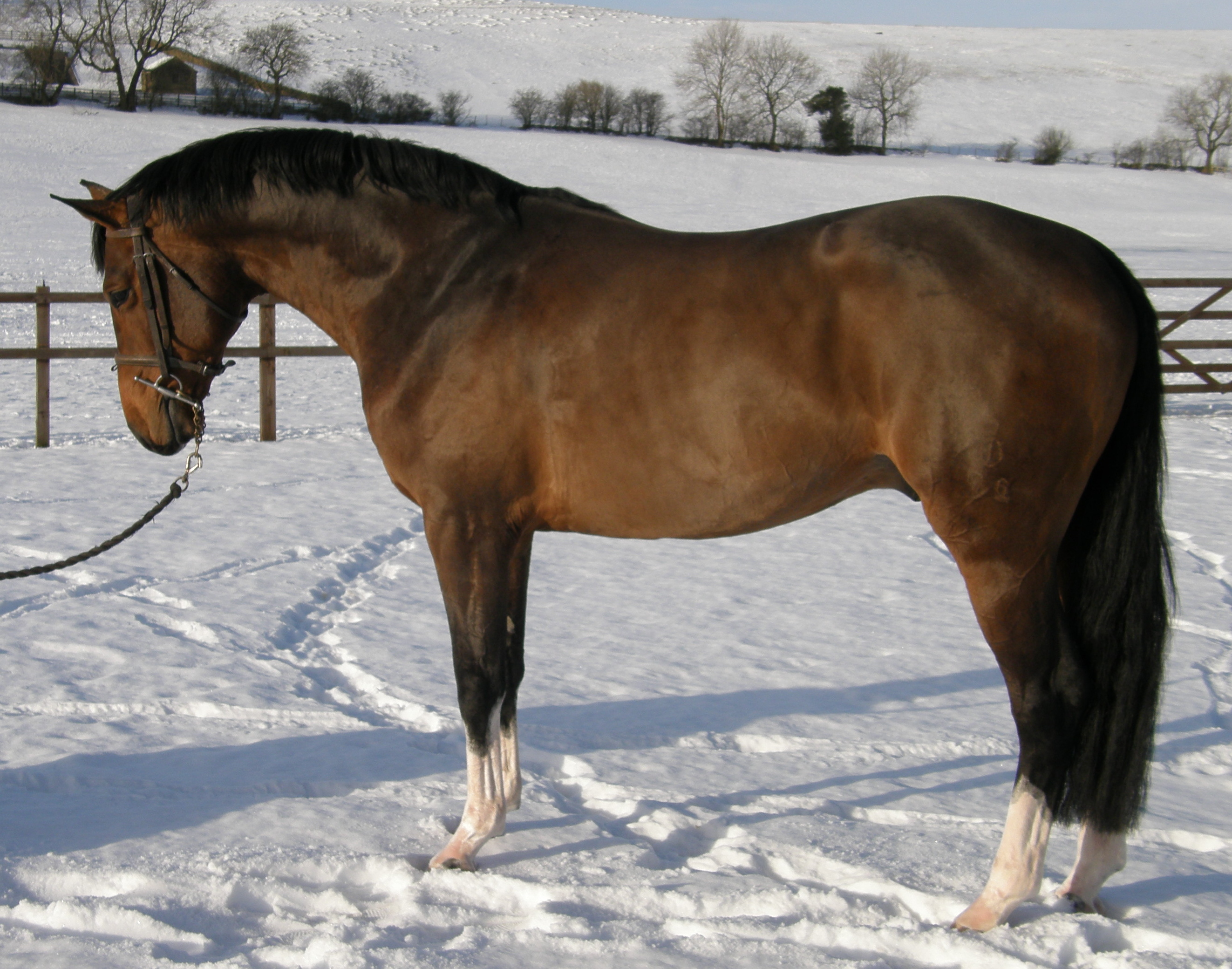 Chaccomo Agostini
An extremely attractive bay stallion with four white socks. He is exceptionally athletic, naturally well balanced with superb paces and a lovely outlook on life. He was awarded a premium along with the coverted Hengstenwarter (potential stallion) by the Oldenburg Verband as a foal.

He comes from a very successful mare family as his grand dam Wella has now 5 offspring jumping Internationally at 5 star level including the stallions Quaprice and his full brother Qrocodile Denfer.

Chaccomo is the ideal stamp of a modern type, top class show jumping stallion, with his fabulous good looks, superb conformation and tremendous jumping ability combined with his outstanding pedigree. He was graded with the AES in April 2009 with registered status and will be presented again under saddle as a four year old. He will stand to a limited number of quality mares only.


Sire:
Sire CHAMBERTINHolst CAMBRIDGEHolst CALETTO 1 HILGUNDE DESIREE V11Holst COR DE LA BRYERE WILGA VERB PR ST CONTRAMeckl CONTENDERHolst CALYPSO 11 GOFINE GODAHRA 11Meckl GODVARI XX DISPATCHERFOLGE Dam:ST PR JESSICA 1VHolst ACCORD 11Holst AHORN ZHann ALME HEUREKA Z RIBECKAHolst CALYPSO 1 GERLIS WELLA 1Holst LORDHolst LADYKILLER XX VIOLA LYRIKHolst LIGUSTER FLANDIA
SIRE:- Chacco Blue 16.3? hh 171cm 1998
Chacco Blue is a successful Grand Prix stallion with international calibre offspring. This exceptional stallion\'s international show jumping career shows no sign of abating. His many successes with rider Alois Pollmann-Schweckhorst include first place in the Grand Prix qualifier in Neumünster, second place in the Zangersheide ?Sires of the World? Grand Prix for approved stallions and second place in the Mannheim Grand Prix. He also won the Martin Collins Santa Stakes at London Olympia in 2008. Chacco-Blue\'s offspring are already following in his footsteps. He sired the OS-International reserve champion in 2008, which is now standing at the Hanoverian State Stud in Celle. He has produced approved stallions in practically every single breeding region. Chacco-Blue?s dam, Contara, was also a successful show jumper up to World Cup level, and her dam, Godahra, also competed successfully in 1.50 m classes. His sire, Chambertin, won two final qualifiers for the Bundeschampionat, was the Holstein champion in 1999, and has consistently produced top competition horses such as 2008 Olympic team gold medallist Cedric, ridden by Laura Kraut. The maternal grandsire, Contender, is currently considered to be a producer of some of the world?s best show jumpers and great-grandsire Godavari xx provides the all-important thoroughbred blood.
Dam:
DAM:- St Premium Jessica 1V Holst Stamm 504 1994
Jessica got the top prize at her mares performance test and was also awarded State Premium. She is by Accord 11 who is by Ahorn of which five of his progeny qualified for the federal show jumping championship in Verden in 1992, with Acord II finishing as vice chaCAMBRIDGEHolstmpion. Acord II convincingly won the stallion performance test in 1991 scoring 9.5 to 10.0 for show jumping and 9.0 to 9.67 for rideability, and was the 1992 Holstein show jumping champion in Bad Segeberg and German vice-champion in Verden in 1992. He was also the most successful five-year-old stallion in Germany with a tally of 21 wins. He continued his sporting career winning intermediate grade-A show jumping competitions and achieving placements in advanced classes. He is one of the most sought after warmblood stallions of Europe, since he transmits attributes of nobility, ride ability and exceptional jumping values. The Grand dam Wella has produced the fantastic stallion Quaprice and his full brother Qrocodile Denfer both owned by the Bois du Margot stud in France. The full sister Ornella was champion 6 year old and was placed in the Global Champions tour Sao Paulo 2008.The great grand dam Lyrik is the mother of the stallion Lantaan and her sister produced the great Operreta la Silla ridden by Jan Topps. This stamm 504 has produced dozens of approved stallions. Some of Chaccomo\'s foals.